Must you match your nail polish colors?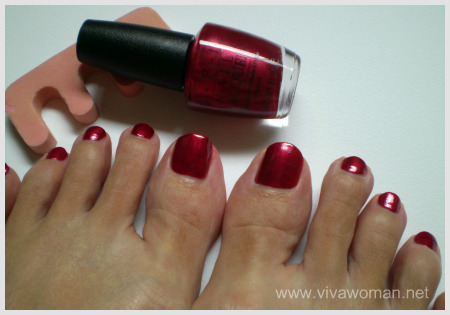 I'm not really a waitress.  That's the color of this OPI nail polish that I frequently use on my toenails.  It's a vibrant rich red color, and very befitting as an auspicious color for Chinese New Year.
Since I had some interesting comments from my post about matching bra and panty, I want to find out from you ladies if it's necessary to wear matching colors on your fingernails and toenails.  Do you ever wear different colors?
I did it a few times.   I picked a deep color for my toenails and a silver shade of nail polish for my fingernails.  Or I stuck to a French manicure.  I figured out that if I can wear different colors for tops and bottoms, it shouldn't be a problem for my nails.   I'm not certain if the idea is normal or odd though.
Okay, I hope all of you are having fun.  I'll be heading off to my mum's to have a gathering with my siblings and nephews soon.
Comments