DIY Beauty: nutmeg spice to erase acne scars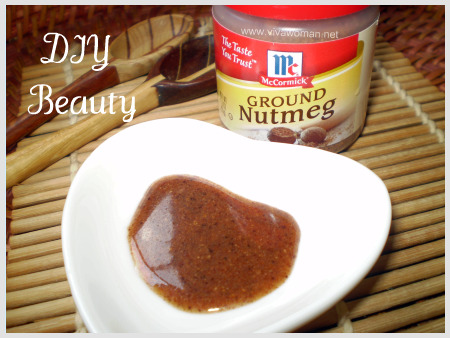 Nutmeg, a cooking and baking spice, is often cited as a kitchen ingredient which you can use for your acne scars and blemished marks. I have come across the recipe of using nutmeg and honey but the idea of using spice of my face just didn't appeal to me, until Leon of Beauty Secrets Revealed suggested it when I complaint about my cheek acne scars.
Used historically for a variety of skin diseases
Apparently nutmeg has anti-inflammatory properties and was used since ancient times for a variety of skin diseases including ringworms and eczema. Add it with honey which has antiseptic benefits and the concoction is supposed to help erase acne marks over time.
Well, I took this recipe to test sometime back and what I found is that it did help to calm the acne, but I didn't find it effective in reducing the marks and so I gave it up, until recently that is when I decided to try again due to a new mark thanks to my itchy fingers.
Recipe and application method
The recipe is easy. You only need nutmeg and honey, raw unprocessed if possible for the latter. What I did was to mix about half a teaspoon of nutmeg with about a quarter teaspoon of honey into a paste, apply some of it on my acne marks after washing my face and leave it for about 20 – 30 minutes before rinising off. No stinging but the nutmeg smell is strong, not unpleasant though. You can apply a few times a day but what I found a bit more effective is to leave the paste longer for about 30 minutes.
Use it in conjunction with aloe vera
I found this to be more effective the second time I used maybe because I left the paste longer for 30 minutes. On top of it, I also used aloe vera afterwards on the spot. My acne marks healed faster this time and although I still have scars, the tone appeared more even and the mark is less distinct like the others I had. 
Milk in place of honey
Because I still have quite a bit of the paste left, I'm going to continue using this as I realized that patience is key with homemade remedies as this is not a miracle potion.  But hopefully, I can really get rid of the acne scar in time if I can use it more consistently.  However, I found another recipe that suggest using milk in place of honey and I may try that to see if it works better.
Update on 28 Feb 09
Nutmeg with milk seems to give slightly better results but the drawback is that milk apparently isn't as soothing as honey, well at least for me. So with milk, you have to reduce the frequency to once a day as a spot treatment or your skin may burn. Or if you use it twice a day, leave the paste on for a maximum of 20 mins and wash off afterwards.

Comments