DIY Beauty: cinnamon & nutmeg acne mask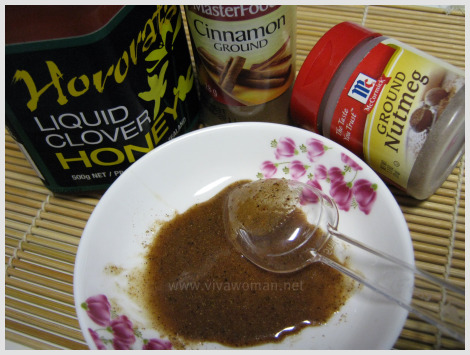 This mask consisting of grounded cinnamon, nutmeg and honey is great for acne flare ups. In fact, it is probably one of the best DIY masks I've tried in terms of results as just after three days of using the mixture, I noticed my acne calmed down tremendously and the red marks were a lot lightened. The only drawback is, this is extremely messy to use as there were lots of dripping!
Nutmeg is anti-inflammatory
I've tried using nutmeg with success as an ingredient to erase acne scars but I've only used it as a spot treatment and never the entire face. Nutmeg has anti-inflammatory properties and was used since ancient times for a variety of skin diseases including ringworms and eczema. Add it with honey which has antiseptic benefits and the concoction is supposed to help erase acne marks over time. It is also supposed to help lighten skin tone. However, based on my experience, the results were not immediate and you need to be patient.
Cinnamon is a natural exfoliant
But it's a different story with the cinnamon added. Cinnamon has been used for thousands of years as an  antiseptic, astringent, antifungal and anti-viral aid, among its many other uses.  Additionally, cinnamon is an exfoliant and can stimulate the pores, thus helping other ingredients to work on the skin as well.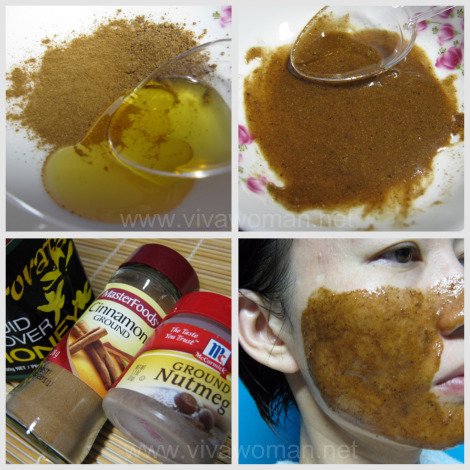 Easy recipe
This recipe is very straightforward. Just mix one teaspoon of grounded cinnamon, one teaspoon of grounded nutmeg and one teaspoon of honey together into a thick paste. Apply on your face for half an hour and then rinse off with warm water. Moisturize as per normal afterwards. I usually apply emu oil on the acne to speed up healing.
Option of using with lemon
The original version of this recipe is to add lemon to fade the spots but because my skin cannot tolerate the sting from the lemon juice, I left this ingredient out. In addition, lemon can cause photosensitivity. As for the honey, I used normal honey and it worked well to control the acne breakout and reduce the red marks.
Frequency of use
I used the mask a few days in a row before stopping for a day or two. If you have acne flare ups, doing so will help to calm down the acne, dry them up or at least flatten the bumps. Once the acne has calmed down, cut down to two or three times a week at most. The mask will help to lighten the marks but don't expect miracles in the short term. It will lighten up with continuous application though.
Word of caution
While this is a great home remedy for acne, but this DIY mask is not for everyone.  I wouldn't recommend you to use this if you have sensitive skin as some of the ingredients maybe too strong for such skin type. Another point to note is despite what is recommended, please DO NOT rub or scrub with this mask as the ingredients will hurt your skin! Do not also exfoliate your skin during the period you're using this mask as this has some exfoliation properties and you don't want to aggravate your skin condition. Finally, be prepared for the dripping with some paper or cloth towels!

Comments