Applying toner by fingers or cotton pads?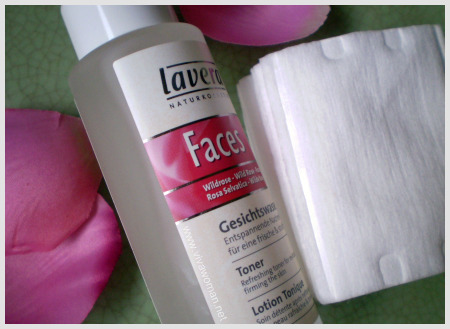 A few weeks ago, a reader by the name of Jenny Li sent me an email to ask about the pros and cons of applying toner using cotton pads and using fingers.
I think I read that you apply toner with your fingers as opposed to a cotton ball? I've been doing that as well because I ran out of cotton balls, but the new toner I'm using is really runny so I find that I can't do that anymore. I'm interested to hear your opinion on whether toner should be applied with cotton balls or fingers and the pros and cons of each.
Jenny's question was interesting and in fact, not too long ago, I also read Kimoko's take on this topic of applying toner.  Anyway, my answer to Jenny was that I use more cotton pads to apply toner actually.  It's a habit which was formed in my early 20s when I started with Clinique's 3-step skin care system.  I only started using fingers recently when I was testing the Phyto Balancing Tonic from True Bio Skin Care because that's how Susan of True Beauty taught me how to use their toner.
Using fingers to tap on goodies from toner
I would say how you apply your toner depends on two things.  One, personal choice and the other, the function of your toner.  Those who use cotton balls/pads may like to give their face a clean sweep to get rid of any traces of dirt or their cleansers.   The toner in this case is also part of the cleansing process.  However, if you're confident that your cleanser is doing a good job of removing all traces of debris, then there's no need to use a cotton pad but you can use your fingers to tap the tonic and deliver the goodies from the toner to your skin.   Doing so means you won't waste more of your toner as cotton pads tend to absorb more than needed.
Using cotton pads to prevent wastage
However, having said that, I would also qualify that it also depends on the packaging of your toner.  In my case, I was using hydrosols and Lavera Faces Calendula Toner before using Phyto Balancing Tonic from True Bio Skin Care.  Both types of toners come in bottles with open tops which meant it was highly possible for me to pour out more onto my palm.  So no, I don't like using fingers to tap on my toner unless I can squirt the liquid out.  And to save on my toner, I sometimes damp the cotton pad with mineral water so that I don't have to pour out so much.
So what about you ladies who use toner in your skin care regime?  Do you use cotton pads?  Fingers?  Or you simply spray it on?
Comments