Soap making resources and recipe calculator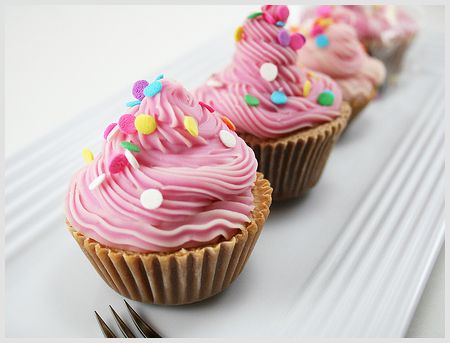 Wouldn't you like to take a bite into these delicious looking cupcakes? I know I would. But unless I want my mouth to foam, I should really refrain from doing so if I come face to face with these. Because these are cupcake soaps and they're not edible! I found them at Morgan Street Patisserie while surfing the web for soap making information.   Honestly, I probably won't use them at all because they're so pretty!  As it is, I couldn't even bear to use the Hello Kitty and hippo soaps I've made in my last DIY workshop. 
According to the descriptions, these cupcake soaps have a chocolate scented cake and white tea & ginger scented frosting but the sprinkles aren't soap but are sugar. Ingredients include olive oil, distilled water, soybean oil, canola oil, coconut oil, sodium hydroxide, palm oil, palm kernal oil, shea butter, sweet almond oil, kaolin clay, tussah silk. fragrance, sugar sprinkles, color.
Anyway, the point of this post is to highlight a soap making resource which comes complete with a soap making recipe calculator I've come across at From Nature With Love. I've been thinking of making more soaps for fun on my own and have been checking out websites on the information.  What I like about the resource is that I can make calculations and create a recipe on my own for both soap bar and liquid soaps.  I haven't tried making liquid soaps and this is something I would love to attempt.
If you're keen to make your own soaps, you might like to bookmark these resources for references.  But of course you can always choose to buy commercially available soaps.  Like these lovely cupcake soaps!

Comments