DIY Beauty: green tea facial wash and toner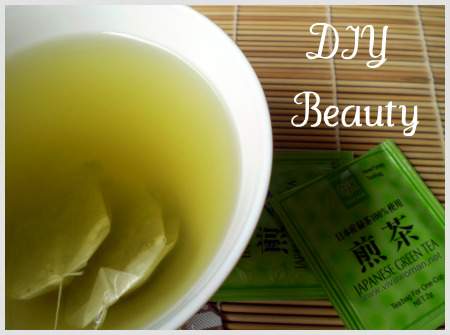 I received an email from a reader Junita Ali this week who kindly shared a few DIY recipes that are being used by the Korean celebrities. Junita, who is a huge K-entertainment fan told me she obtained the recipes which were translated and posted at the beauty and fashion section of the Soompi Forum. I was particularly interested in the recipe of using green tea used by Kim Nam Joo because green tea is something I've wanted to try for awhile but I wanted something really easy. And this recipe cannot get any easier!
Green tea by the way, has rich sources of antioxidant benefits and is great for anti-aging. In fact, it is widely known that green tea provides some form of sun damage protection by blocking UV rays and this is why it is used in some sunscreen formulations.
Using green tea to clean out pores
The Korean actress uses the beverage to wash her face, keeping her pores clean and her skin looking clear and blemish free. Nothing messy or complicated and it's just a three-step process:
1) Make green tea and chill it by keeping it in the fridge.
2) Before using the green tea, wash your face clean and steam or drape a hot face towel over your face to open up the pores.
3) Finally use the cold green tea to rinse your face again.
You can make the green tea with the green tea bags but if you're using powdered green tea, then the directions is to put 2 cups of water for every 1 teaspoon of green tea powder.
Use as a facial toner and spritz
I drink a very normal brand of green tea obtained from the supermarket and what I did was to put two bags into a bowl so that I can make sufficient tea to wash my face. I haven't tried it yet but as I'm typing this, the green tea is being cooled and I'll wash my face with it later. I will also decant some of the cold green tea water in a little bottle to use as a facial toner. I am thinking it will make a nice facial spritz too!
Anyone game for this?
Update
The facial wash is very refreshing! I've prepared another portion for this evening too. And one tea bag is sufficient!
Comments