DIY Beauty: mixing a new nail polish color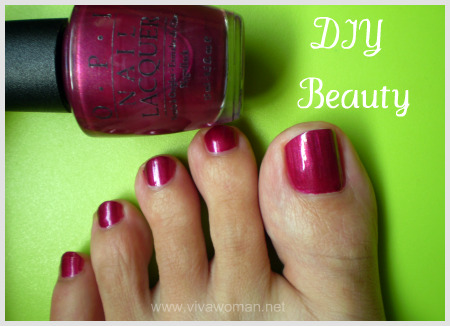 I've got a couple of nail polishes that I hardly use because I don't like their colors on my nails. I bought these because they looked good on the website but somehow when painted, didn't flatter my toe nails. So they've been lying pitifully in the drawer, waiting for my favor.  Yesterday, as I was going through them, I decided I must well get creative and play with them.
Mix the bright red with a dark shade
Two of these are in the shades Peru-B-Ruby. It's an intense bright red that I dislike.  Because I prefer something darker,  I decided to mix it with Lincoln Park After Dark to mellow the brightness.  What I did was to pour some of the Lincoln Park After Dark polish into the bottle of Peru-B-Ruby and add some thinner.  To get an even consistency, I then turned the bottle of Peru-B-Ruby upside down and rub it for a while using the palms of both hands.  After testing it a few times and adding a bit more Lincoln Park After Dark, I had a new shade!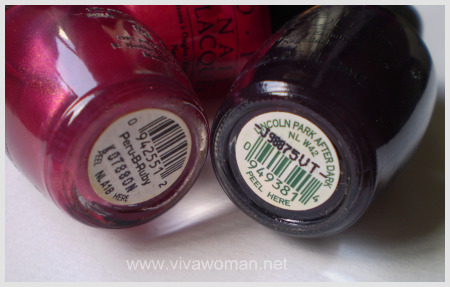 New nail polish color created
Ta-da!  My new shade of nail polish.  Something darker, less intense but more wearable for me.  I guess I can make it darker if I like by pouring more Lincoln Park After Dark into the bottle but I'm quite happy with how it has turned out plus I don't want to use up my dark nail polish.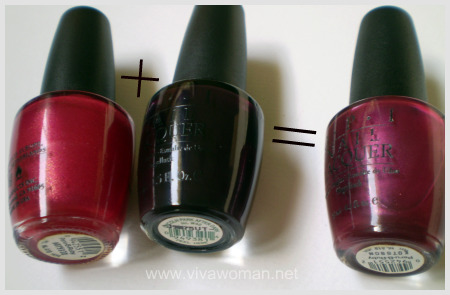 Before and after creation of new shade
Here is how my toe nails look like.  On the right I have Peru-B-Ruby and Lincoln Park After Dark.  As you can see, the red isn't very flattering.  And on my left is my new nail polish shade!  I like the look of it on my toe nails.    But I wonder what I should call it?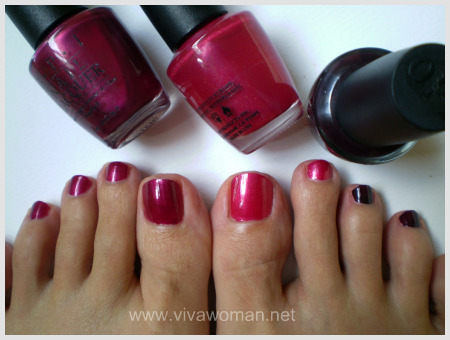 New shade at no cost
It's really easy isn't it?  Rather than wasting that bottle of Peru-B-Ruby, I have a new shade of nail polish I will wear.  And you can count on me to experiment with more.
You can even have fun mixing different colors to get one brand new color like blue and yellow to make green!  Just remember not to shake your bottle to mix the color.  Always use your palms to rub the bottle.
Comments