Phytoceane Oceabasic Cleansing Lotion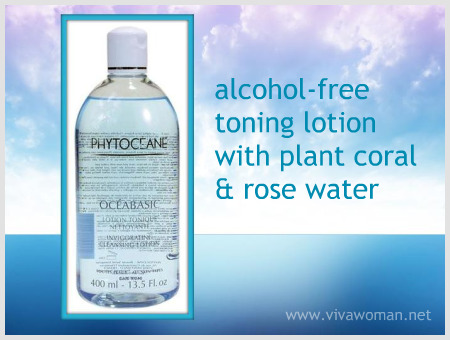 A guest post from Pei Fang aka pf1123 reviewing her favorite toner Phytocéane Océabasic Invigorating Cleansing Lotion this time. Our lady sure has a special love for European branded products!
It all began when my beautician introduced me this toner. It's weird that on the bottle it says that this is a cleansing lotion but she told me to use it as a toner. Oh well, at that point in time, my face was so clogged that I had to run back to the expensive spa products offered by my beauty salon and accept what was recommended.
Product Description
I found out that Phytocéane is the brand name and Océabasic is one of the range of products in the brand. This product has a nice light aqua-ish blue colour. It smells like a cleansing liquid than a refreshing toner. And hey, it says it's a cleansing lotion so I wonder why I'm using it as a toner? But on the bottle, it says: "This alcohol-free toning lotion gently cleanses the face and eye contour area. The blend of plant coral and rosewater helps purify, soothe and moisturize the skin." The direction is not to rise after putting it on with a cotton pad. This is for face and eyes of all skin types.
Made from the sea
Phytocéane is a French brand. I got kind of worried when I started using the Phytocéane range of products as they claimed that they use a kind of coral as ingredients. Goodness! I wouldn't want to hurt the environment with my selfish love of beauty! The "coral" is Jania Rubens, which I later checked up and found to be a type of seaweed. I guess it's more glam and spa-like to call it a "coral". But I was relieved that no 500-year-old coral was plastered on my face.
Ingredients
Phytoceane Oceabasic Invigorating Cleansing Lotion contains these:
Aqua(water)/Eau, Rosa Centifolia flower water, Butylene Glycol, Peg-40 Hydrogenated Castor Oil, Trideceth-9, Peg-7 Glyceryl Cocoate, Phenoxyetha-nol, Ethylhexyglycerin, Isopropyl Palmitate, Potassium Sorbate, Parfum (Fragrance), Maris Sal (Sea Salt)/Sel Marin, Triethanolamine, Jania Rubens extract, Caprylic/Capric Triglyceride, Tocopherol, Critic Acid, Propyl Gallate, Citronellon, Butylphenyl Methylpropional, Geraniol, CI42090 (FD&C Clue N1)
Thicker than normal toner
I have a love-hate relationship with this product. At first, I really hated to use it because it is thick compared to the other toners I have used before. It makes my cotton pads shed as I go over it on my face and I always end up having lots of little balls of lint on my skin!!! And my skin did not feel refreshed after using this. However, I continued to use it as it costs S$83. Although I got it at 20% discount, but still…OUCH!
Cleansing routine
This is my nightly cleansing routine and how this invigorating cleansing lotion aka toner fits in.
1. Eye makeup remover
2. Mandom Cleansing Express makeup remover
3. AHA & BHA exfoliating facial gel (derm prescribed)
4. Invigorating cleansing lotion
Triple cleansing! See how kiasu I am!!
Actually, I could have ended at step 2 as the Mandom Cleansing Express makeup remover promised that I can go to bed as soon as possible. But hey, I would be nuts to believe that! I don't feel that my face is really clean after using it. There is still makeup residue on my skin that I see by the time I use the third cotton pad and I feel icky if I stop there. But I do like this cleansing liquid because I don't feel that it is too thick like some milky or oily makeup remover and that it might clog more pores for me. But I would definitely use a facial cleanser after it.
Thorough cleansing
After using the Phytoceane Oceabasic Invigorating Cleansing Lotion as a toner for over 3 months in my nightly cleansing routine, I must say that my makeup is more thoroughly removed at the end of the day. And now, my skin is not clogged anymore! YAY!
Cost and availability
This product is very expensive. It costs S$83 for a 200ml bottle. Thank goodness I do not need to use as much as the Mandom Cleansing Express each time; the Cleansing Express requires 3 pumps on 2 cotton pads. However 2 drops of the Phytoceane Oceabasic Invigorating Cleansing Lotion on a cotton pad is enough for the whole face. As it is for cleansing, I do not use this in my morning cleansing routine. Hence, after 3 months+, I still have half a bottle left which should last me another 3 to 4 months. So, it's not too terribly expensive.
Unfortunately, the Phytocéane brand is only available at my beauty salon in Singapore. Online, I learnt that it is available at orangeaday.com.sg but I have not purchased from them before.
All in all, I love the way it works but hate that it causes lint to stick onto my face due to its thicker than normal toner kind of texture.
Comments