Shop Feature: beauty savings at Watsons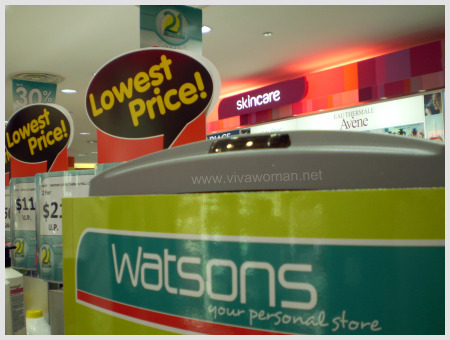 Watsons in Singapore is celebrating its 21st Anniversary and as part of its celebration, is running an exclusive online promotion on top of its in-store discounts and offers. And you, my readers are the first to know because Viva Woman is one of the privileged few to broadcast this special promo!
So what's this promo all about?
Mystery bags with retail value of above S$100 up for grabs
Well, from now till 18 March 2009, a LIMITED number of Watsons 21st Anniversary Mystery Bags with retail value of above S$100 are up for grabs at S$21 only! If you're reminded of the Fukubukuro which are grab bags Japanese merchants filled with unknown random contents and sell them at a substantial discount during their New Year's Day, you're not alone.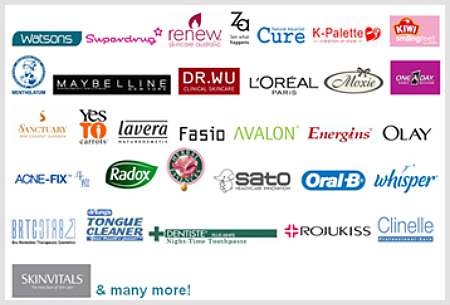 Update on 6 Mar:  More brands are added in the mystery bag!  Woo-hoo!
Many goodies in each bag
That was what struck me initially too but I admit I was a tad skeptical about it until I was told each bag would include products from Renew, Lavera, Yes to Carrots, on top of Dr. Wu, Sanctuary Spa, Cure, Superdrug, L'Oreal, Olay, Fasio, Maybelline and many more including the latest inclusion from BRTC and Rojukiss. Woot! Your guess is as good as mine about what items would be in the bags but judging from the brands, it's definitely something worthwhile! I mean Lavera's stuff alone are already worth grabbing for! Just look at what I bought at the stores recently!
Six certified organic products at more than 50% off
A Lavera BodySPA Orange-Sea Buckthorn Shower & Bath Gel, a Lavera BodySPA Wildrose Shower & Bath Gel, a Lavera BodySPA Wildrose Body Lotion, two Lavera BodySPA Wildrose Body Oil and a Lavera Faces Calendula Toner. Six certified organic skin and body care items for just S$63! Fantastico!
I've never given Lavera BodySPA range much attention simply because they're usually so costly! The organic loot would have cost me S$174 in all had it not been for the S$21 for two deals at Watsons and I would never have discovered the lovely Wildrose Body Oil. In fact, I had to make two trips to get the Wildrose bath and body products because they were already sold out at the Taka store. Too bad their lip balms are not discounted or I probably would have grabbed one too.
Other natural/organic skin and body care range on offer
Besides Lavera, I also spotted Watsons' offers on the other range of natural and organic skin and body care products such as Sukin, Renew and Yes to Carrots. The Renew Rose Hip Oil, which I've reviewed before is being offered with the Renew Toner at S$19.95 or the Renew Cleanser at S$21.  A drastic mark down from the original price of S$40.70!
S$21 hot deals for shampoos galore
Another interesting deal is the S$21 offer for the shampoos. Yes to Carrot shampoo and conditioner are being offered at 3 for S$21. The Phyto range are also going for S$21 each while Klorane's and Charles Worthington's are going at S$21 for two. I was really tempted to buy Klorane shampoos but decided to check out the reviews before doing so. If only their dry shampoos are also going at S$21 for two!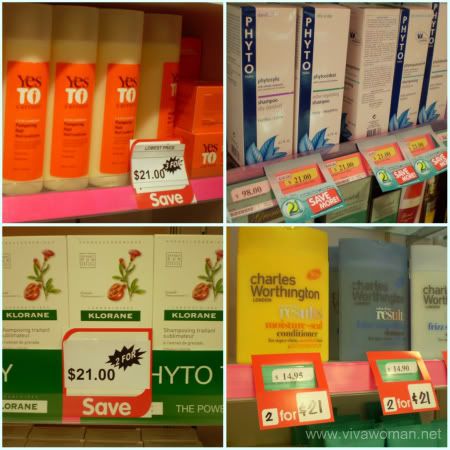 Grab your loot early
Okay, enough said. If you haven't checked out the Watsons 21st Anniversary Sale, you really should because the items are clearing really fast. And if you're keen to purchase the Watsons 21st Anniversary Mystery Bag, get it at Cozyshop. You need to join as a Cozycot member first and remember, there are limited bags so grab yours early if you don't want to be disappointed. As for me, I'll probably pop by the Watsons store to check out anymore good deals before the sale ends on 25 March. But for now, I'm very happy with my Lavera steals!
And keep a lookout for my reviews on the products real soon!
Comments