Viva Challenge: wake up 5 mins earlier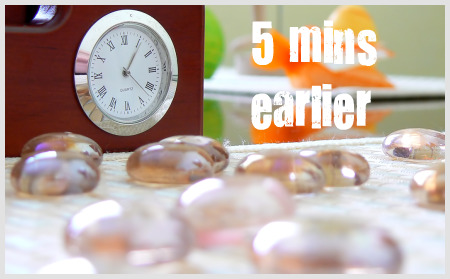 This is the first in a new series I'm introducing here at Viva Woman which I hope will be useful and interesting for you. The idea of this series is to PROMPT YOU TO DO SOMETHING which will help you look good and feel good. The challenge will be simple and most will not cost any money; even if they do, they would be within your original budget. And while some of these information may already be known to you, but the idea is to inspire you to actually DO it rather than just know it.
So ready? Here goes the first challenge!
SET YOUR ALARM 5 MINS EARLIER EVERY MORNING
Strange? I guess you maybe expecting me to tell you to sleep more rather than wake up earlier isn't it? Well, most women I know are very busy with their lifestyles and morning is always a rush hour. We're rushing to school, rushing to work, rushing to get the kids ready, rushing to beat the traffic or rushing to get into the day! But as we rush, let's not forget to make ourselves beautiful and presentable too. And waking up 5 minutes earlier can get a few things accomplished for your beauty regime.
Allow your face serum to be fully absorbed
Allow more time to let your face serum sink into your skin before you apply your moisturizer or sunscreen. You may like to know that waiting at least 5 minutes until the serum is fully absorbed by the skin before applying your next cream helps seal and magnify the benefits of the serum.
Allow your moisturizer or sunscreen to settle before makeup
Allow your moisturizer, sunscreen or primer to set before applying your makeup. Your foundation will look a lot better and not appear streaky vs if you've applied your makeup over your cream immediately.
Allow yourself time to spritz your face after applying your makeup
If you want your makeup to look better, spraying a light face mist after applying makeup is a great way to help it "settle down". If you're already in a rush, you may not have time to do this. So that extra 5 minutes can be useful.
Allow time to work yourself a good lather during your shower
If you take a shower in the morning, then that extra time can mean you can afford to slow down and enjoy the shower rather than rushing through it. It makes a difference to freshen up your spirit definitely, especially with a body shower that smells great!
Allow time to apply body lotion and sunscreen to your body
Sometimes in our rush to get through every morning, we may only have time for our face. That extra 5 minutes can allow you time to pamper your body with a body lotion to keep your skin hydrated and to apply sunscreen on the parts that are exposed to sunlight!
The 5 mins difference
The idea is that waking up 5 minutes earlier every morning can do a difference and sometimes wonder for your beauty regime. That can help you feel better obout facing the day. You may not be able to achieve all of the above stated but at least some of it. And if you're already doing most of these, that extra 5 minutes will allow you to slow down a little, relax and give you more time to enjoy your cup of coffee or cuppa! Hey, less stress is definitely good for beauty!
So do you like this challenge? Will you be doing it? Please let me know in the comments as I'll like to know if this new series is useful.
Comments