100% natural scalp tonic for oily hair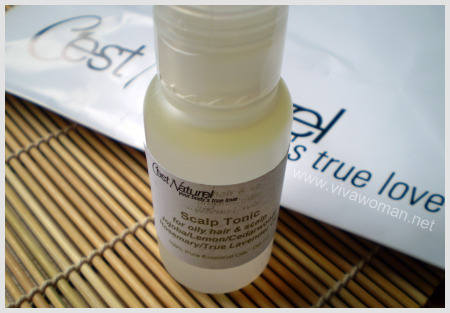 I've never had much confidence in natural products doing anything for my specific hair condition; much less using essential oils as treatment. So I was initially quite skeptical that this hair tonic formulated with Jojoba oil and 100% pure essential oils including Lemon, Cedarwood, Rosemary as well as True Lavender could do any wonders to control my greasy scalp. But boy was I impressed with how well it kept the oil at bay the entire day for me! I didn't even need my dry shampoo when I use this Scalp Tonic for Oily Hair & Scalp from C'est Naturel.
Customized treatment
This tonic is a customized treatment specific to my hair condition. All I did was described my hair condition to C'est Naturel and they took care of the rest. The online store also has a range of Dead Sea skin and body care range and I'm currently using their Dead Sea Mud and Sea Salt. I quite like the mud but it's too early to tell of any specific benefits so I'll run a review sometime later.
Non-oily scalp tonic
For now, I'm sold on this Scalp Tonic! What I did was to rub a few drops of the tonic on the crown area of my scalp after shampoo and then blow dry my hair. Although the tonic consists of essential oils, I didn't feel any oiliness at all. I was half afraid that my hair strands will bunch up together after using this but my worries were unfounded. My hair looked perfectly fine and most important, I could face the day without worry of having to deal with an extremely oily scalp.
Get expert help instead of playing the guessing game
C'est Naturel is an online shop based in Singapore and on their website, you can find information of the essential oils and their benefits – both for hair and skin.  If you're unsure of what oils are suitable for you, always check with them by giving full information of your skin or hair type.  This way, you can be sure you're not going to get anything that is unsuitable.
Comments