DIY Beauty: L'Occitane Ma Creme Nature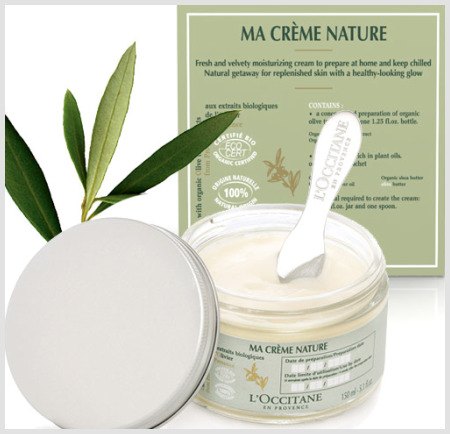 My interest in L'Occitane was recently renewed after noticing that more of their products are indeed organic, with certification from ECOCERT. Most recently, they launched an interesting product in US and it's the Ma Crème Nature which is a 100% natural origin moisturizing cream that you can prepare at home and keep in your refrigerator.
According to information from the website, this is a moisturizer using organic olive tree extracts. For US$42, you'll get a sachet with the olive tree extracts, a graduated bottle, a 150ml glass jar and a product label. You are to mix the formula yourself using these 5 simple steps:
Step 1
Fill the graduated bottle, containing the concentrated preparation with mineral water or spring water up to the indicated mark. To obtain an unctuous cream, it is recommended to use a mineral water with low amounts of calcium (<100mg/l).
Step 2
Cover and shake well for a perfectly even result. Set aside.
Step 3
Pour the sachet filled with the preparation rich in plant oil, into the 150ml glass.
Step 4
Add the mixture created in step 1 to the glass jar, little by little (ideally in 3 steps) while mixing well with the spoon until fully integrated.
Step 5
On the label, write the date on which you prepared your cream as well as the use date (4 weeks after the preparation).
Because Ma Creme Nature is preservative-free, hence it must be kept in the refrigerator after it is made. The product is described as a moisturizer which you can use twice a day on your face and if you like, on your body too.
It was just launched in US during early April but I have no idea if it is coming to Singapore and if yes, the timeframe. It sounds interesting for sure but like all L'Occitane products, the price is a tad expensive. Homemade blend but without the homemade price unfortunately.
Comments