Thursday Plantation Tea Tree Body Wash & Soap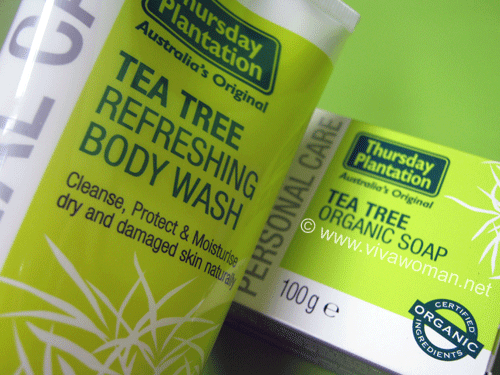 Following my review on the Thursday Plantation range last month, I've added their Tea Tree Refreshing Body Wash and the Tea Tree Organic Soap to my skin care collection. As mentioned, I did like their products quite a bit and since I needed to replenish my body wash, I decided to purchase the products under this brand as they're easily available and pretty much affordable.
Certified organic range
For those who are new to the brand, Thursday Plantation has a full range of products that are said to be naturally derived; free from parabens, petrochemicals, propylene glycol, laurly sulphates, polysorbates, synthetic fragrances, synthetic colours and animal derived ingredients with at least 70 per cent certified organic.

Thursday Plantation Tea Tree Refreshing Body Wash 200ml S$17.45
Ingredients:Aloe Barbadensis Leaf Juice*, Water, Decyl Glucoside, Glycerin*, Coco-Betaine, Glyceryl Stearate, Cetyl Alcohol, Xanthan Gum, Melauleuca Aternifolia (Tea Tree) Left Oil, Lonicera Caprifolium (Honeysuckle) Flower Extract, Lonicera Japonica (Honeysuckle) Flower Extract, Equisetum Arvense Extract, Cymbopogon Schoenanthus Oil, Urtica Dioica (Nettle) Leaf Extract, Rosmarinus Officinalis (Rosemary) Leaf Extract, Citrus Aurantifolia (Lime) Oil, Citrus Aurantium Dulcis (Orange) Peel Oil, Achillea Millefolium Extract, Limonene, Citral, Geraniol. *certfied organic ingredient – 72% certified organic / 100% naturally derived.
Although I did like the Thursday Plantation Tea Tree Dry Skin Relief, but I have to concede that the medicinal smell of tea tree oil can be a bit of a turn off. So I only used the product at night but good thing my family members are not complaining as the scent does not linger. But I was still a bit leery about trying out the body wash as I prefer my body washes to smell refreshing and pleasant. I actually hadn't noticed that this comes with lemongrass, lime and orange until I started using it. So the smell of the tea tree oil isn't strong and in fact, this body wash is exactly what its name denotes – refreshing! I like this and use this in the evenings, followed with the Tea Tree Dry Skin Relief. Both products work to relieve the itchiness that I sometimes get on my arms and thighs in the evenings. The only thing is that I wish this product foams more as I feel cleaner with foaming body washes. But that's a small drawback for me as I'm compensated with the refreshing feeling after each wash, which does make me feel clean, even if it is just in the mind. (#k8SjZc9Dxk_#k8SjZc9Dxk)


Thursday Plantation Tea Tree Organic Soap 100g S$7.35
Ingredients: Sodium Palmate*, Melaleuca Alternifolia (Tea Tree) Leaf Oil, Glycerin, Water/Aqua, Macadamia Integrifolia Seed Oil*, Limonene. *certfied organic ingredient – 97% certified organic / 100% naturally derived.
The organic soap foams more than the body wash but it leaves me feeling too squeaky clean as it is less moisturizing than the body wash. The smell of the tea tree oil is also a lot stronger with the soap. This bar can be used on the face but I've not tried as I generally dislike using soap for my face. I guess this will suit those with acne or problematic skin and who like the idea of using soap either as a facial wash or body wash as although it leaves the skin squeaky clean, it does not leave the skin dry and tight.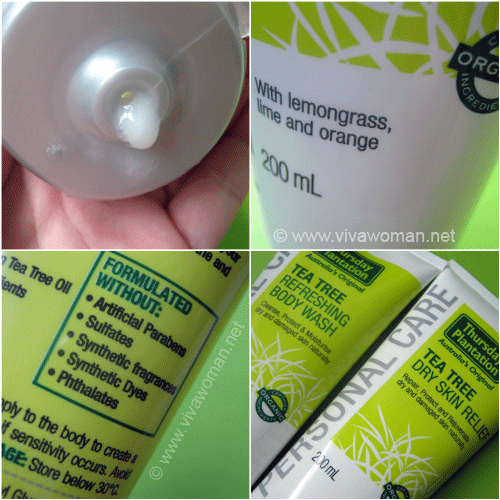 Overall summary
I think the Thursday Plantation range are worth checking out for those with acne and problematic skin. I have somewhat sensitive skin on my body and so far, their products work well for me to relieve me of the itchiness that I sometimes suffer in the nights. I also think the body wash and soap help with body acne for I noticed that some red bumps on my body disappearing after using these products.
Comments