LashMantra: 100% natural eyelash serum
I began using LashMantra sometime in March and am happy to report that my eyelashes are now darker, thicker and longer. To prove my point, I have a before-and-after picture in the middle of this post to show everyone.
Contains 18 pure cold pressed oils
LashMantra is not the first eyelash growth product I have used, but it is the first 100% natural eyelash serum I've tried. It's made by my blogging friend Leon and includes 18 pure cold pressed oils including Pomegranate Seed , Argan, Walnut and Vitamin E loaded with Gamma Linolenic Acids, Alpha Linolenic Acids, Oleic Acid, Punicic Acid, Amino Acids, zinc, proteins, vitamins and antioxidants. And unlike those products that I've tried before, LashMantra is free from artificial fragrance, colorant, parabens, synthetic preservatives and chemicals.
Two options to apply the serum
On the website, instructions are that you can apply the oil on your lashes with your fingers or using the mascara wand that come along with the product.  I choose the wand because my clumsy fat fingers were not able to dab the oil on my lashes properly.  However, I had a little trouble using the wand applicator initially too because it was rather fat and it was only after a few trials that I got my act in place.  Leon confirmed that she's replacing the mascara wand with an eyeliner applicator from May so I'm hoping the application will be easier using that instead.
100% safe for my eyes
The best thing I found about using LashMantra is that I don't have to worry about the oil getting into my eyes.  In fact, it happened a few times when I had too much oil on the wand and it dripped right into my eyes.  All I needed to do was to use a tissue paper to dab the oil off and my eyes didn't experience any irritation, itchiness or soreness. Lucky too that the serum is oily but it isn't sticky!
Can apply serum directly on the base of the lash line
My lower eyelashes are actually very sparse; so bad that the end of my eyes are actually hairless.  Because of the 100% natural oils, I could apply LashMantra eyelash serum directly on the base where my eyelash grows out.   This was something I never dared to do with the non-natural eyelash serums because of the fear that the chemicals would get into my eyes.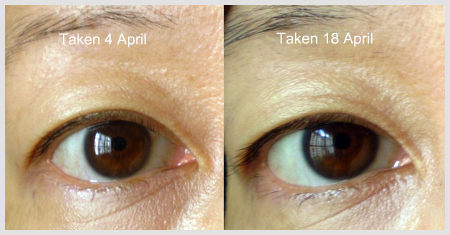 click to enlarge
Takes about 2 – 4 weeks to see results
As you can see from the picture, my eyelashes are now darker, thicker and longer. Realistically, it takes about 2 to 4 weeks to see some good results from using LashMantra although this may vary individually. Compared to Canmake Eyelash Essence which gave me very fast results, LashMantra took a longer time but the growth was more significant than using Canmake Eyelash Serum.
Trim the eyelash for the oil to work better
Leon told me that I can trim my eyelashes at the ends if I wanted them to grow faster with the serum but I didn't. I was also a bit lazy and forgot to apply the serum on some nights. But judging from the picture, the serum did quite well for my lashes in just two weeks isn't it?  I also applied some of the serum to my eyebrow initally but stopped because I realized that they were also growing longer!
Competitively priced against natural and non-natural serums
LashMantra is not the only 100% natural eyelash growth serum in the market. But at US$48 (including shipping charges), the product is probably one of the more competitively priced natural eyelash growth serum. In fact, LashMantra's price is quite close to Talika Eyelash Lipocils, one of the more popular eyelash growth product which isn't even natural to begin with.  In addition, compared to the non-natural eyelash serums which can only be kept for between three and six months, LashMantra can be kept for one to two years and I'll say a bottle will last you a very long time!
Unsophisticated product packaging
The packaging of LashMantra is nothing glossy or fanciful; it comes in a 15ml glass bottle with crystal dropper and an additional mascara container all packed in a handcrafted jute bag. But I'll say don't judge a book by the cover; afterall the product is handmade and it works!
Special discount code for Viva Woman readers
LashMantra cost US$48 including international shipping charges but Leon has extended a special price of US$45 to readers here from now till August 1, 2009. Just type in discount code VIVAWOMAN to enjoy the special price. To find out more about the natural eyelash serum, check out the website at LashMantra.
* Update: A few readers have complained about not receiving their orders or delayed shipping so I've removed the link to the store. I'm keeping the review up only because I took time to test and write this.
Comments