Why I use a chemical sunscreen sometimes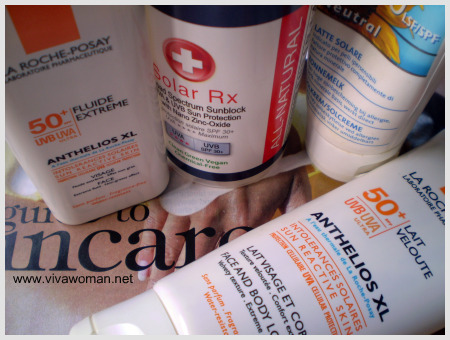 If you come back often enough, then you may have noticed my preference for physical sunscreens over chemical ones.   However, this doesn't mean that physical sunscreens are definitely more superior or that all chemical sunscreens are lousy. 
Chemical vs physical sunscreen
By now, I believe most of you are already fairly familiar with the difference between chemical and physical sunscreens.  For those who don't, chemical sunscreens contain synthetic chemical substances to absorb UV radiation while physical sunscreens contain inert mineral particles specifically zinc oxide and/or titanium dioxide to reflect UV rays like a mirror.  However, I've also mentioned that physical sunscreens may actually reflect and absorb UV rays in my entry mineral-based sunscreens are the best.
European chemical sunscreens are superior
I prefer physcial sunscreens because it is a personal choice and I like to believe that zinc oxide is the most superior sunscreen ingredient based on the FDA sunscreen monograph.   I ignore most of the chemical sunscreens out there because I am not interested in using so many synthetic ingredients on my skin. HOWEVER, that does not mean that chemical sunscreens are inferior.   On the contrary, I think highly of the European chemical sunscreen formulations containing Mexoryl XL and SX or Tinsorb and I sometimes use them.  Whether or not these ingredients are as comparable or better than zinc oxide I cannot say but it should be noted that a sunscreen formulation ought to be viewed in totality rather than just based on one single ingredient.
PPD rating measure protection against UVA rays
The reason why I think highly of these European sunscreens is because many of them actually provide a PPD of at least 15, which blocks out about 95% of the UVA rays from your skin (source).  Now, UVA rays are the ones responsible for most of your skin aging process and PPD is the rating used to determine a sunscreen's UVA rays capabilities.  It is unlike the SPF ratings which only measures protection against UVB rays.    
La Roche Posay Anthelios range with PPD28
Unfortunately, there are no PPD ratings done for US produced sunscreens which I'm using; not even those containing high amount of zinc oxide.  Hence, I'm not entirely sure how well my skin is protected against the UVA rays under our hot sun.  As for Japanese sunscreens, all I know is the PA+++ means a PPD of more than 8 but I don't know exactly how much.  Thus, when I head out to the beach or the pool under the hot sun, I actually use La Roche Rosay Anthelois Fluid Extreme or XL Lait Veloute with a PPD28 just to be sure.  Yes I do, because I have a huge pigmentation problem.
European sunscreen formulations with high PPD for pigmented skin
Hence, if you have pigment problems or photosenstive conditions and you don't mind using a chemical sunscreen, I would recommend you to go for European produced sunscreens because you can find out the PPD rating and how well protected are you against the UVA rays.  La Roche Posay Anthelios XL is one you can try and I have a review here.  The other one is La Roche Posay Uvidea XL with a PPD18 recommended by Pei Fang.
Comments