DIY Beauty: glitter express manicure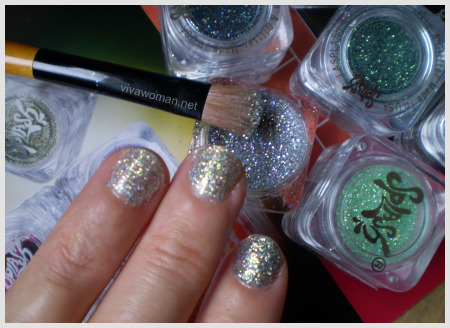 Until last Friday, I had no idea what I could do with cosmetic glitters. I remember owning one of these some years ago but apart from dabbing them on parts of the face, I didn't know what else I could do with them. But after attending a workshop at LA Splash, I discovered these are so fun to play with and they can be worn anywhere on the body, such as our eyes, body, hair and nails! And the best part is, they're easy to use!
10-minute manicure
For someone who cannot paint her fingernails at all, this glitter express manicure on my left hand took me about 10 minutes to complete. I didn't even need to be precise in my painting because the glitters can cover up the uneven edges!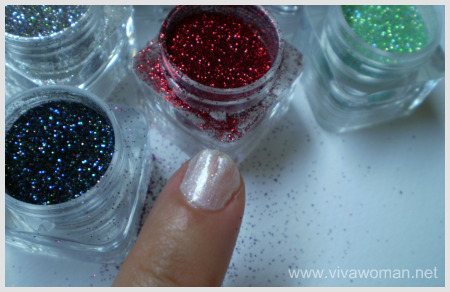 3-step simple glitter manicure
What I did was to apply a coat of white nail polish first. I could have simply used a clear nail polish but I just grabbed what I had then. Then I used a small brush to dab some silver glitter onto the wet coat before finishing off with a clear top coat after it has dried up. Easy peasy! I guess I still need some practice but the overall effect wasn't too bad.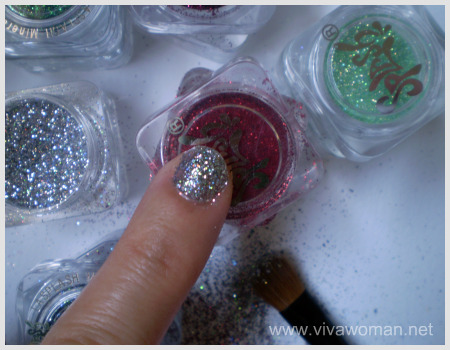 Mix glitters with nail polish
Instead of applying the glitter directly on the wet nail, I could probably mix the glitters with a nail color of my choice too. However, I've not tried this method so I don't know if the outcome will turn out better or worst although my gut feel is that it should be quite nice.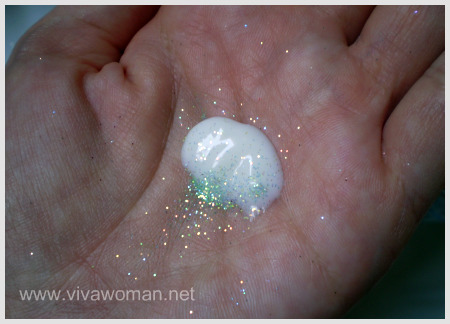 Mix with lotion for the body
Anyway, besides using the glitters on my nails, I can also mix the glitters with my body lotion and apply it on my body for that extra sparkling effect for special occasions. As the cosmetic glitters from LA Splash are polyster film, they soften in contact with moisture and would not cause any irritations to my skin unlike some other glitters made from glass and metal grinds. I was also shown how to dab the glitters over my eyelid using the LA Splash Sealer. However, I doubt I would ever wear that sort of look.
Availability of LA Splash Glitters
These glitters are available in a wide range of colors. If you like to have some fun trying these out, you can get the LA Splash Glitters at Watsons at Bugis Junction, Ngee Ann City and Tampines Mall. Alternatively, find them at the John Little except the one at Plaza Singapura or some of the Sa Sa Cosmetics outlets. Retail price is S$13.90 per pot. LA Splash by the way is a US brand so it's readily available in US as well as many of the Asian markets.
Comments