The medical & cosmetic benefits of tea tree oil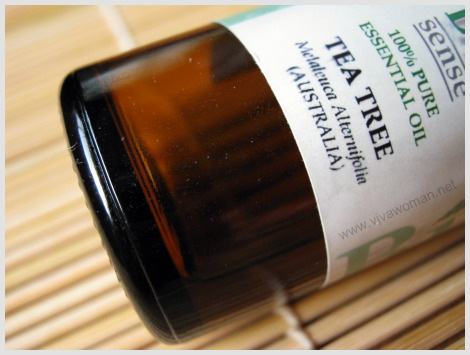 Today, I want to rave about the wonders of tea tree essential oil and why this is an item I will always want to have at home.   The reason why this oil is great is because of its benefical medical properties such as being antiseptic and antifungal, plus its beneficial cosmetic properties.  I started out using the tea tree essential oil to treat my son's cold and flu but found it really effective in helping with my skin ailment plus body odor.
Tea tree oil is also known as melaleuca oil and is a clear to very pale golden hydrophobic essential oil with a camphoraceous scent. It is taken from the leaves of the Melaleuca Alternifolia which is native to the northeast coast of New South Wales, Australia. Tea tree oil in its pure form can cause irritation and hence, is best used diluted with another carrier oil or with water. 
Home remedy for cold and flu
As mentioned, I used this on my son first.  I tried out using this together with eucalyptus oil whenever he developed a stuffy nose, the early symptom of a common flu.  What I did was to put about 6 – 8 drops of each essential oil into a tub of slightly hot water for him to soak and bathe in.  By smelling the scent through the steam, his stuffy nose cleared up very quickly.  If his symptoms were slightly more severe, I would proceed to rub the essential oil on his body by mixing 2 drops of each essential oil with 8 drops of carrier oil such as jojoba or even grapeseed oil on his chest before his bedtime.  By morning, his stuffy nose or any early symptoms of a common flu would usually clear and go away. 
Because I ran out of eucalyptus oil subsequently, I later found out that tea tree oil by itself works as well!  In fact, I also read that tea tree essential oil is great for those with sinus so I might later try the remedy on my husband who has that annoying problem.
Home remedy for skin fungus
Since I was always rubbing the oil on my son, I decided to rub the balance on my tummy.  That area has developed some red patches since six years ago and nothing I use could eradicate them.  I'm not sure what they are as the doctors could not diagnose them but I suspect they're probably just some skin fungus.  Amazingly, I noticed that all the red patches were gone in a matter of two weeks after I started using the tea tree oil mix!  The oil was really godsend for me and I proceeded to use it on my back, which has the same red patches and they've almost cleared up after a week. 
Again, I never used the oil neat, but rather always dilute by adding 3 – 4 droplets with 8 – 10 drops of carrier oil. 
Home remedy for body odor
This was a major surprise for me!  Remember my post on my homemade deodorant with baking soda and tea tree essential oil?  Well, I've been using that pretty consistently for a month or two and recently, I found that I don't have to wear a deodorant daily!  In fact, I can go without a deodorant for two days now, especially if I'm not perspiring a lot.  Although I knew that tea tree essential oil can resolve unpleasant odor, I had no idea that it can help rid body odor!  But, I want to qualify that I've also started taking zinc supplements so I'm not certain if that has also added to the positive effects as zinc can also be used to treat body odor.  Well, in any case, I'm absolutely happy with my DIY deodorant and am working to make a stick version soon.
Home remedy for acne
Of course, tea tree essential oil is well known for treating moderate acne as it is reported that topical application of 5% tea tree oil has shown an effect comparable to 5% benzoyl peroxide, albeit with slower onset of action.  Personally, I find it okay but not that miraculous in treating acne.  Results are better for me when I mix it with emu oil though.
Use with care
So this is my positive experience using tea tree essential oil.  I've been getting my supply from one of the mobile carts at the shopping malls that carry the range under the brand Bio Sense but I'm planning to get through sprees  from LuckyVitamin.com as the range there is much cheaper.   I really think this is a great oil for skin ailment but with most of the essential oil, do be very careful when you use tea tree oil, particularly if you've a medical condition or if you're pregnant.  In addition, concentration of the essential oil should be half or less of your carrier oil.  For example, 3 drops of the essential oil with 6 drops of carrier oil.  In fact, I would suggest you do a skin patch test if you've got sensitive skin.
Comments