Is the Natio Spa Heavenly Hand Cream so divine?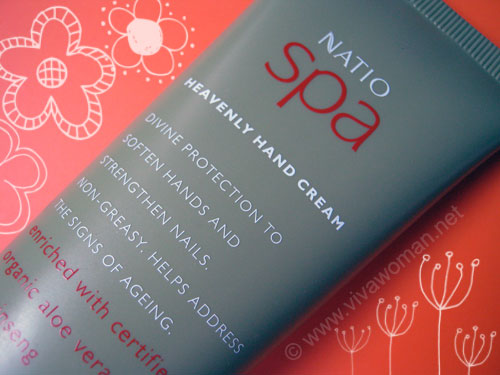 Sasa used to be one of my favorite beauty stores until I became a natural skin care convert. So I've not been visiting the store for awhile until recently, when I wanted to replenish some nail care products. I spotted this Natio Spa Heavenly Hand Cream and decided to give it a try as I was in the market for an affordable and effective hand cream that is handy enough to carry around.
Natio is a brand of plant based beauty care range from Australia and their products were brought into the Sasa stores some time ago. I hadn't noticed the Natio Spa range until now and was attracted to the clean packaging and the name of the product. Despite the somewhat upmarket positioning, the price range is very affordable.
Texture
The texture of the Natio Spa Heavenly Hand Cream is creamy but not too thick. A small dollop is enough to moisturize both hands and I really like how soft and supple my hands felt afterwards; they didn't feel dry and neither were they greasy. In fact, I have to say my hands always feel very comfortable after every application.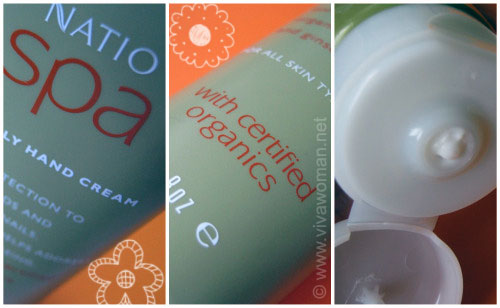 Smell
This hand cream has a noticeable lavender scent and reminded me of the A'kin Hand, Nail & Cuticle Creme but not quite as strong. It's not too overwhelming and those who like lavender are likely going to love this one.
Feel good factor
I've always believe that all bath and body products that aims to pamper should be evaluated for their feel good factor. Obviously, a name like Heveanly Hand Cream already aims to do that. So the question is, does it? I'm not a big fan of lavender; it's a scent I sort of like but don't love in a big way. So in terms of smell, I think the hand cream is pleasant enough for me. However, in terms of the texture and comfort level, this hand cream does very well. Not quite divine as yet, but it is certainly lovely.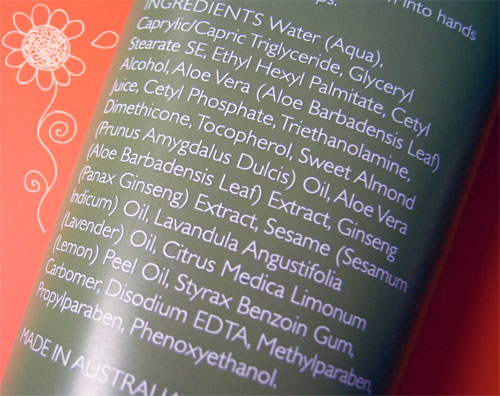 Ingredients
Water (Aqua), Caprylic/Capric Triglyceride, Glyceryl Stearate SE, Ethyl Hexyl Palmitate, Cetyl Alcohol, Aloe Vera (Aloe Barbadensis Leaf) Juice, Cetyl Phosphate, Triethanolamine, Dimethicone, Tocopherol, Sweet Almond (Prunus Amygdalus Dulcis) Oil, Aloe Vera (Aloe Barbadensis Leaf) Extract, Ginseng (Panax Ginseng) Extract, Sesame (Sesamum Indicum) Oil, Lavandula Angustifolia (Lavender) Oil, Citrus Medica Limonum (Lemon) Peel Oil, Styrax Benzoin Gum, Carbomer, Disodium EDTA, Methylparaben, Propylparaben, Phenoxyethanol.
Natio Spa Heavenly Hand Cream is stated to be enriched with certified organic aloe vera and ginseng. I see the big words "with certified organics" imprinted on the front of the tube but I can't find any proper certification labels or logos. My guess is, only those two ingredients were organic as the formulation don't quite fit the mark since it contains silicones and parabens. However, I personally find the ingredients acceptable because at least, it doesn't come with excessive chemical overloads.
Price and availability
The 90g Natio Spa Heavenly Hand Cream is available for S$16 from Sasa stores. You can also get it from their website. It is said to be able to strengthen nails too although I haven't taken particular notice of that as my nails are naturally quite strong already. Overall, I am giving this product 4 hearts; the missing heart owing to the impression it gives about being organic when there is a lack of proper certification.
Comments