Giveaway:Keys to Sustainable Youth Contest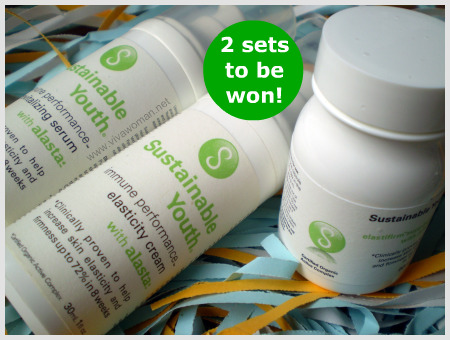 Remember my post on Sustainable Youth Immune Performance where I showed my success using the products with before and after picures?  Well, two of you will now have a chance to win a set of the products as the company is kicking off summer with the Find the Keys to Sustainable Youth Contest! 
Giveaway for two readers – Singapore & International
I requested two sets – one for my local reader and one for my international reader. Yes, two of you will get a chance to win a Total Immune Performance Regimen Package comprising the following three products, valued at US$225:
1. Immune Performance Elastifirm Supplement with Alasta
2. Immune Performance Revitalizing Serum with Alasta
3. Immune Performance Elasticity Cream with Alasta
|| HOW TO PARTICIPATE ||
Visit Sustainable Youth Technologies and leave a comment to tell me the three most unique points you've discovered about Sustainable Youth Products. That's it! There is no need to leave a link but please tell me WHICH COUNTRY YOU'RE FROM. An example:
Hi, I'm from Singapore and I learnt that Sustainable Youth Products are proprietary products supported by three patents…
Each person is entitled to ONE ENTRY MAXIMUM and should abide by the following guidelines:
1. You must follow the rules for your entry to be valid.
2. Remember to provide a valid email address.
3. The items are not redeemable for cash.
4. The giveaway will be opened till 12 midnight SST on 28 June 09.
5. Winners will be selected and announced.
6. Everyone can participate, no matter which country you reside.
In order for me to administer my giveaways systematically, invalid entries will be deleted without further comments. Like I've stated, you have to follow the rules and they're quite easy really. So enter now and have fun!
Comments