6 common questions on sunscreens answered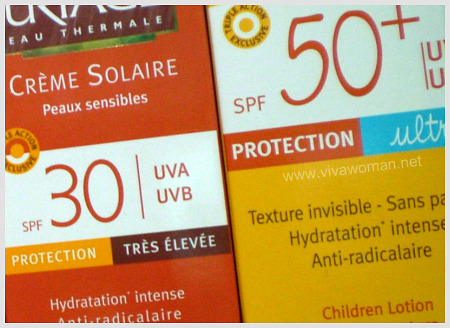 Today marks the total solar eclipse of the sun and I want to blog about a totally appropriate topic – SUNSCREEN! It so happened that I've been getting some questions about sunscreens and I thought I'll address some of the common misconceptions here. There are lots of myths but I'll address six here today.
1. Combine products and get higher SPF?
Many people think that they will get a higher level of protection if they combine sun protection products with different SPF ratings. So say if you apply a SPF8 foundation, SPF15 moisturizer, then SPF30 sunscreen, you're going to get a total of 53? Well, no. In effect, you will only be protected to the level of the highest SPF product, that is SPF30 – provided you apply enough of it.
Bottom line:  Ensure your sunscreen offers broad spectrum protection!
2. Mix sunscreen with a lotion for better application?
Mixing a greasy sunscreen with a moisturizer or lotion so as to get the best of both world sounds like a good idea doesn't it?  Well, no because you're actually diluting the power of your sunscreen by at least 50% or more and you'll need to apply twice the amount of lotion to get back the level of SPF.  (source) 
Bottom line: Use your sunscreen neat and don't mix in with your lotion!
3. SPF100 is twice as good as SPF50?
A common misconception is that the higher the SPF number the better. However an SPF100 sunscreen is not going to offer you double the protection of SPF50. SPF50 filters 98% of the the UVB rays while SPF100 filters out 99% of the UVB rays. The difference is only 1%. In addition, SPF only refers to the ability of a sunscreen to block ultraviolet B (UVB) rays, which cause sunburns, but not UVA rays, which are more closely linked to deeper skin damage. In fact, the next point will tell you why you want to avoid sunscreens with high SPF rating especially if you're not applying enough.
Bottom line: No need to chase the SPF number!
4. All right to under-apply if the SPF is high?
Most assume that it is better to get a sunscreen with a high SPF because if you under-apply sunscreen with a high SPF, you'll probably still get half the SPF protection. So say if you get a sunscreen with SPF70, and if you under-apply, you'll still get an SPF of 35 right?  Well, not so. According to a 2007 study published by the British Journal of Dermatology, under-application make SPF coverage fall much more steeply.  In fact, the higher the SPF, the more rapid the drop that comes with under-application. So with an SPF70, you'll only get SPF8.4 if you're not applying enough (source) and a sunscreen with an SPF of 50 applied at 0.5 mg/cm2 yields an SPF of only 2.7 (source).
Bottom line: Apply enough sunscreen!
5. Get protection from using makeup with SPF?
Some women think that it is enough to get sun protection from using foundation or mineral powder with SPF. Well, not true. According to skin guru Dr Leslie Baumann, you'll have to apply 14 times the amount of powder you usually do to be sufficiently protected against the sun! Even if you were willing to cake on your makeup, there's no way to pile on that much powder. (source)
Bottom line: Don't rely only on your facial powder!
6. Homemade sunscreen offers safer protection?
While I'm all for DIY concoctions and homemade recipes, I'm not for making your own sunscreen because it may not be photostable. In fact, I agree with Sonya Lunder, senior analyst at Environmental Working Group that formulating sunscreens is an art and a science. According to Lunder, homemade concoctions can go on unevenly leaving portions your skin vulnerable to the sun, and some essential oils can make skin more sensitive to the sun. (source)
Bottom line: Leave it to the experts!
Please also read my older entry tips on sunscreen protection and application to find out more.
Comments