DIY Beauty: a simple homemade deodorant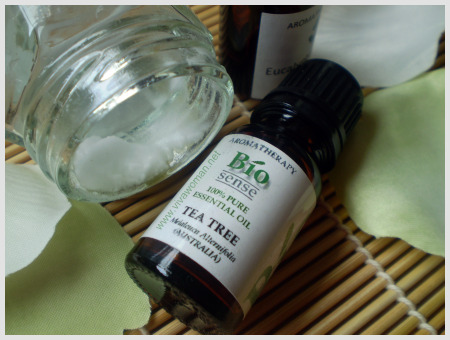 I was really excited to find out that tea tree essential oil, which has antibacterial and antimicrobial properties, is good at resolving unpleasant odor and hence, can work as a natural deodorant. I was slightly skeptical about the effectiveness but still, I tried first by applying a few drops of the oil neat on my underarms and that kept me fresh the entire day! The only problem was, the strong smell didn't dissipate as quickly and it was impossible to go out smelling like that!
Baking soda absorbs sweat and kills bacteria
I guess I could have masked the smell with another more pleasant smelling essential oil but I didn't have any with me.  Or to reduce the number of drops so that the smell would be lighter.  Then I remembered Carla had left a comment in one of my earlier entries that baking soda can be used as a deodorant because it absorbs sweat and kills bacteria as well.  
No white residue left from the baking soda
This homemade recipe is really easy. What you need is to make a thick paste of baking soda with water. I made about a tablespoon and then mix in with about 3 to 4 drops of the tea tree essential oils. The smell of the tea tree oil was still present, but not as strong this time. And to apply, I used a cotton pad to dab the paste on my armpits.  The mix took a while to dry up but there were no white residues whatsoever left on my underarms and they actually smelled quite good for about 6 hours!
Need to test this homemade deodorant gradually
I didn't step out under the hot sun so I can't vouch if this will still work well when the underarms are all sweaty.   I guess I need to get over the mental barrier and test this gradually.  I mean, I don't want to embarrass myself using this but stinking in public!  But if this works well, I can junk my deodorant which is full of chemicals and synthetics!
Word of caution regarding the two ingredients
However, one word of caution about this recipe.  Some people maybe sensitive to baking soda and have reported developing rashes from using the ingredient.  Hence, always do a skin patch test before using something like that.  In addition, do ensure that you're in a suitable condition to use any form of essential oils.
More experiments ahead
I'm going get myself more sweet smelling essential oils to take this recipe further.  When I have time, I'm going to try to develop a deodorant stick!  And of course I'll report back when I succeed!
Comments