DIY Beauty: aspirin & green tea for acne spots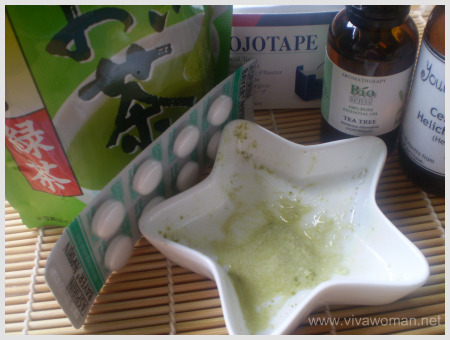 I don't know what's come over me but I haven't been a good girl with my diet.  I was rather disciplined for awhile but I've reverted to eating lots of junk food, chocolates and ice creams.   Now, I'm paying the price, breaking out with big pimples on my left cheek!  Because the Lavera Blemish Stick Concealer is only effective on small pimples on my forehead,  I decided to try another DIY spot acne recipe.  This time using aspirin, green tea and tea tree oil.
Use DIY recipes with care
Before I share the recipe, I'll like to add a disclaimer here that you should exercise caution when trying DIY recipes.  Some ingredients may work for me, but may backfire on others.  So please, follow with care!  I wanted to say this in particular to this recipe as one of the ingredients is aspirin.  Although may people have reported success using aspirin mask, personally, I don't like to use this on my entire face.  It breaks my skin into little small bumps!  But on small areas, it's still okay.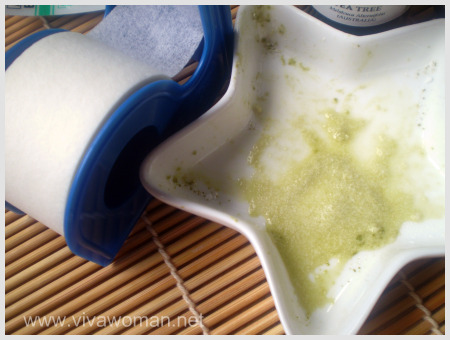 Aspirin to replace brewer's yeast
Anyway, I wanted to draw out my headless pimples and had come across a recipe using brewer's yeast.  However, I couldn't get my hands on brewer's yeast and decided to try using aspirin, green tea powder and tea tree oil instead.
Ingredients used
Since I was only using it as a spot treatment, I didn't need a lot.  This was what I used:
– one crushed tablet of aspirin
– a quarter of a teaspoon of green tea powder
– a quarter of a teaspoon of floral water (distill water possible)
– three drops of tea tree oil 
Dab on spot and left overnight
These ingredients were then mixed into a paste which I used to dab on my spots.  After which, I used the hojotape to hold the paste in place.  I then went to sleep.  I did this for three nights in a row and by the third morning, the pimples was drawn out and was ready to pop!
Aspirin sloughing off skin debris
It was funny that the skin on the spots were peeling when I was washing my face and I realized that the skin debris was being sloughed off because of the aspirin which contains acetylsalicylic acid. However, one ruptured when I rubbed it the wrong way. Fortunately, the manuka honey I used helped subsided the inflammed spot and now, it's healing quite well and the spot is a lot smaller. As for the other one, the pimple sort of hardened and after a few application of manuka honey, turned into a small red spot.
Need to restraint from popping
I'm not sure if I would try this recipe again though because the headless pimple, when drawn out, can make one feeling like popping it. A lot of restraint is definitely required!  So use with care!
Comments