New Lavera Neutral Sun Cream with SPF20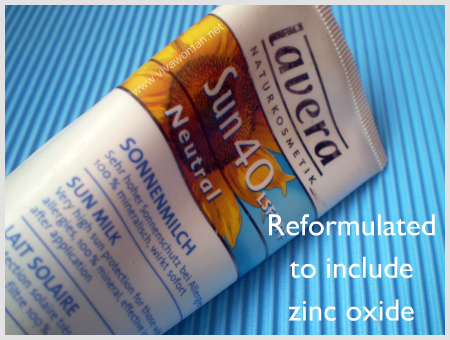 Lavera has reformulated their Lavera Neutral Sun Cream SPF40 and included zinc oxide to its new formulation in order to meet the European regulations on sunscreens, which will come into effect in 2010. Under the change, the UVA and UVB protection of sunscreens have to be provided in a 1 to 3 ratio. In practice, this means that an SPF 30 product has to provide the equivalent of SPF 10 in UVA protection, according to information from CosmeticsDesign.com.
Mineral filters in nanoscale
However, because of the reformulation, Lavera's new sunscreen is now only SPF20 instead of SPF40. And according to the same article, Lavera confirmed that the mineral filters used in Lavera's sun care products are used in the nanoscale although the particles were coated in stearic acid which, according to European research, stops the particles from penetrating the skin.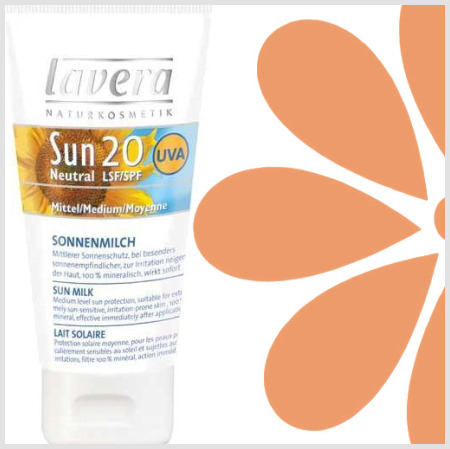 New formulation suitable for sensitive skin
The new Lavera Sun Sensitive Neutral Sun Cream SPF20 bears the UVA logo now. It was said to be developed especially for people suffering from extremely sensitive skin with anti-irritating ingredients of Liquorice and Evening Primrose Oil to calm the skin while Beta Glucan, Organic Sea Buckthorn Oil and Vitamin E provide active skin cell protection assists in keeping moisture in the skin and helps to protect against environmental influences e.g. sun, wind. The formula is free from flower extracts, herbal extracts and essential oils. It is also water resistant.
Ingredients of Lavera Sun Cream SPF20
I couldn't find any information regarding the percentage of zinc oxide or titanium dioxide in this new formulation as the ingredients were just listed as such: Aqua, Glycine Soja Oil*, Zinc Oxide, Polyclyceryl-3 Ricinoleate, Titanium Dioxide, Glycerin Alcohol, Tricaprylin, Canola Oil, Glyceryl Oleate, Helianthus Annuus Seed Oil, Prunus Amygdalus Dulcis Oil*,Simmondsia Chinensis Oil, Tocopheryl Acetate, Hydrogenated Castor Oil, Glucose Glutamate, Oenothera Biennis Oil*, Dipotasssium Glycyrrhizate, Hippophae Rhamnoides Extract*, Tocopherol, Stearic Acid, Alumina, Betaglucan, Aloe Barbadensis Gel* Ascorbyl Palmitate
* Ingredients from Certified Organic Agriculture
Possible sunscreen for my hands
I really like the idea of the UVA logo on top of the SPF rating and I'm definitely interested to check out the texture of the new sunscreen.  Lavera Neutral Sun Cream with SPF40 was a tad rich although it was indeed water resistant.  If the new one is not as greasy, I wouldn't mind using it as for my hands.
Comments