Viva Challenge: bring along a hand sanitizer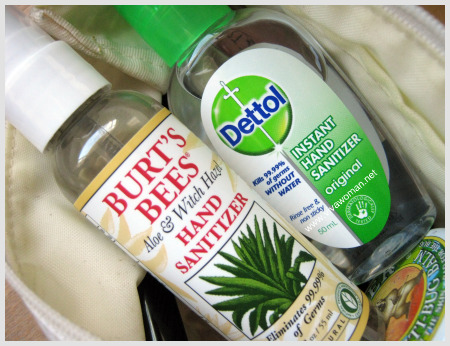 A hand sanitizer is a very good item to add in your cosmetic pouch or handbag these days especially in view of the rampant spread of the H1N1 virus. By now, I'm sure you're aware that apart from the air, infections can spread via your hands as they come into direct contact with your mouth, nose, and conjunctiva of the eyes. Therefore, practicing proper hand hygiene is the easiest way to help reduce infections.
Although washing your hands regularly with soap and water is best, using a hand sanitizer is a very effective substitute when hand-washing with soap and water is just not feasible as the alcohol in the sanitizer breaks down the germs' cell walls causing them to die.
Efficacy of hand sanitizer
In fact, according to a report which tested the efficacy of soap and water and alcohol-based hand-rub preparations against live H1N1 influenza virus on the hands of human volunteers, alcohol-based hand rub was proven to be highly effective in reducing influenza A virus.
Anyway, a hand sanitizer keeps your hands clean and is definitely useful if you need to use them to touch up your makeup but can't wash them for some reasons.
100% natural hand sanitizer
So these days, I carry one of these in my bag when I'm out. A 50ml bottle is convenient to bring out especially when I can't get to the wash basin. I love the Burt's Bees Aloe Vera & Witch Hazel 100% Natural Hand Sanitizer, which uses corn-based alcohol that can also eliminate germs up to 99.99% of germs and yet make your hands smooth and soft. The only gripe is the price. Sephora retails this for S$12! Well, I'm sure going to order more of this via sprees at Drugstore or LuckyVitamin.
So are you carrying a hand sanitizer in your bag?  If not, will you take up the challenge to get one today?
Comments