A royal induglent for nails at Royale Retreat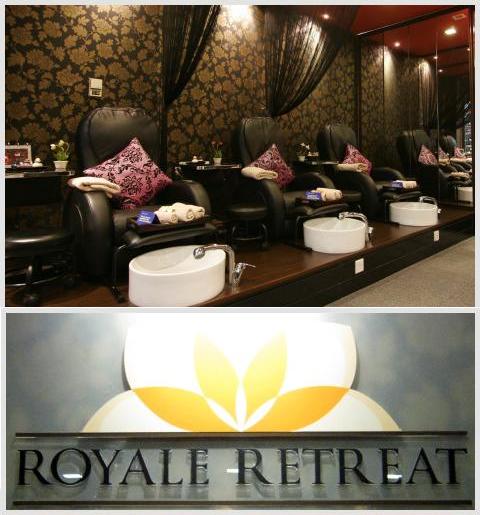 Last week, I was invited to Royale Retreat Nail Spa at Siglap Centre to review their manicure and pedicure services. Just from the name, I was expecting a really posh place with the best pampering service, but I was a tad disappointed that the spa's facade was quite normal looking – just like any other nail salons. But once I stepped inside through the glass door, the vibes were completely different as I was greeted with a very cosy setting, which is somewhat resort like.
Focused on pampering and indulging the customers
I met with Vincent Oh, the director and owner of the nail salon. He explained that Royale Retreat is all about pampering the customers and letting them have an enjoyable and relaxing nail spa session. So just like boarding a flight to your vacation destination, first thing that greeted me was a warm towel to freshen up. And while having my nails being worked on, I was able to sip on a cup of hot tea and watched "The Devil Wears Prada". I actually hadn't realized that scent of lavender, tea tree and peppermint until Vincent highlighted that their store is always infused with blends of essential oils to help their customers stay relaxed.
Getting a full back massage
Actually, I was too busy playing with the OTO massage chair to notice. This was one of the things I liked about the place. Getting a full back massage while having my manicure and pedicure! That was to me, a total indulgent!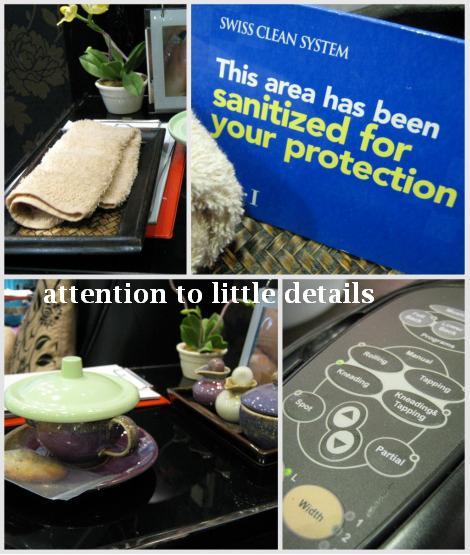 Use of OPI Swiss Clean & Drip-Dry System
When it comes to the nail service, Royale Retreat is focused on providing top-notch sanitation standards. They're not clinically clean like Polished that I reviewed previously, but at least, all their instruments are sterilized with the OPI Swiss Clean System and nail therapists are trained to sanitize the sink and give customers' feet a quick spritz of alcohol before the start of the treatment. And instead of a blow-dryer which can pass on bacteria and viruses from one user to another, Royale Retreat invests in OPI Professional Drip-Dry System which helps to dry the top of the nails in 5 minutes, doubling up as a time saver.
Experienced and skilful nail consultants
There were two nail consultants who attended to me. Each apparently has had at least 5 years of experience with manicures and pedicures. Their skills are good and they're very enthusiastic – so much so that I thought the filing of my heels was a little heavy handed. But I was happy that the nail polish on my fingernails stayed on for a week. Usually, they get chipped off by day 5!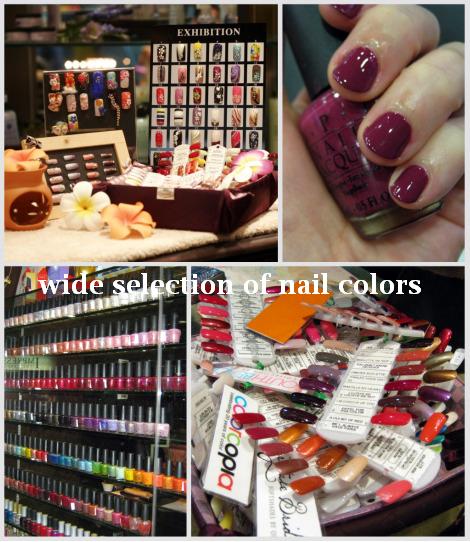 More than 200 shades of nail colors available
In terms of nail polishes, Royale Retreat has more than 200 shades of O.P.I, Orly and Missha to cater to every mood. Well-heeled ladies can also choose from a selection of Chanel and Christian Dior nail lacquers. And apparently, mobile phones can also be adorned with Swarovski crystals at Royale Retreat.
Other treatments available
Besides manicure and pedicure which is at S$28 and S$39 respectively, the nail spa also offer a host of other extras like a range of aromatherapy sea salt soak, or moisturising lotion and milk soak infused with 100% Certified Pure essential oils for extra nourishing. I even learnt that I can easily have my calluses treated and dissolved for a smoother and prettier feet at $70.
Overall summary
Overall, I would rate Royale Retreat Nail Spa above average – good for an enjoyable session of manicure and pedicure. If you're located at Siglap or in that area, you may want to give yourself a treat. Vincent assured me that their therapist do not push packages and that's because they have a program which allows customers to accumulate their spending in exchange for some bonus later. Royale Retreat is located at 55 Siglap Road #02-23 Siglap Centre and you can call 6449 9939 for enquires or visit their website at www.royaleretreat.com.sg.
Comments