Tips to store your cosmetics – dryer & cleaner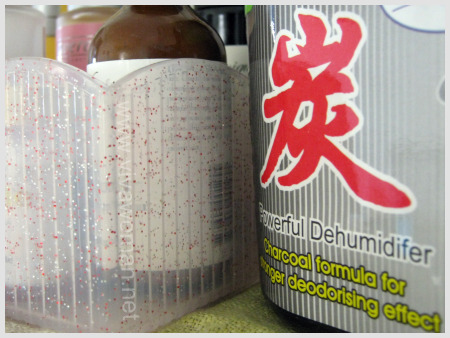 We all know that it's important to store our cosmetics in a cool, dark, dry and clean environment so as to prolong its shelf life. Few cosmetics need to be stored in the fridge and a majority of them are kept in your bedroom, probably in a cool dark corner or in the drawers. However, is the environment really dry and clean enough?   I know mine is not if I do not make additional efforts so today, I'm going to share with you two items that I've been using to enhance the storage of my cosmetics.
Use of wardrobe humidifiers
Recently, I found one of my clays had turned moldy, despite having moved it out of my bathroom and keeping it in one of my bedroom shelves. I wrote an entry in June about why it was not such a great idea to store my cosmetics in the bathroom but it looks like the bedroom isn't doing all too well either. Perhaps that clay had deterioriated so quickly because it was stored in my bathroom for awhile but I believe there must be some level of humidity in my bedroom too.
Reduce moisture and humidity
The idea of moving all my cosmetics to another room wasn't feasible; I just want them to stay put! I first thought about using those dessicant silica gels but I had no idea where to get fresh supplies. Then I remember I used to get those wardrobe dehumidifiers and I went out to Watsons to grab two of the Orita bulky charcoal ones. Perhaps I'll consider purchasing an electricl dehumidifier later but for now, these wardrobe dehumidifiers are good. I already noticed that my vitamin C powder is much easier to dispense, probably because it isn't crumping up anymore.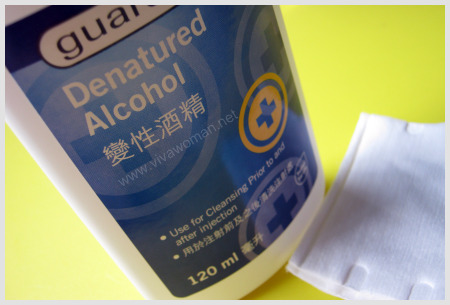 Use of denatured alcohol
I've bought this bottle since watching the video where Jess of Yours Essentially used it to sterilized her bottles.   I find this is particularly useful for wiping cosmetic containers and anything that I use to store my DIY stuff. In addition, they're great to wipe the cosmetics storage space as well after a general cleaning session. Maybe I'm paranoid, but the idea of bacteria-free does appeal to me! Sometimes, I even use denatured alcohol to give my small brushes a quick wipe when I do not have time to wash them but this is generally not recommended since the alcohol will dry out the brushes too much.
So do you use any of this stuff for your cosmetics storage?  Or do you have other tips that you can share with us to keep our cosmetics dryer and cleaner?
Comments