Eco-friendly breathe brushes for airbrush makeup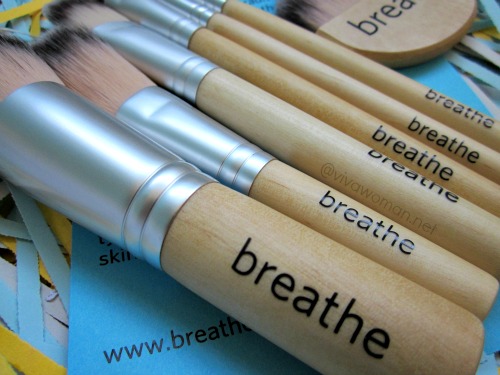 Although I am no makeup guru, I actually love makeup brushes and I have quite a few in my stash. However, I've been using makeup sponges for awhile and apart from the small brushes, all others have been left untouched in my drawer for the past year. And it looks like they're going to stay in there even longer now that I have this set of breathe brushes.
Designed by a professional makeup artist
I received this set of complimentary breathe brushes from the company in US. Apparently, they were designed and developed by a leading licensed aesthetician and professional makeup artist. I had read on their website that their makeup brushes are cruelty-free, eco-friendly and hypoallergenic but I didn't really think they would be that much different from those that I have tried. So the question is, are they?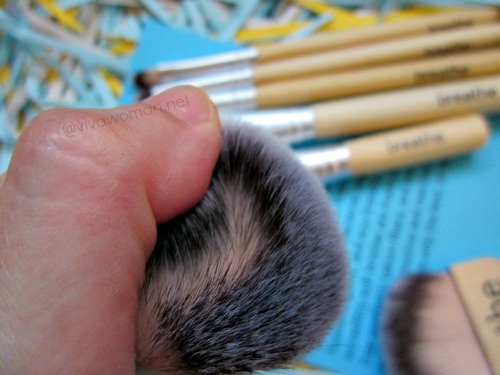 Made from synthetic bristles
Well, first off, these breathe makeup brushes are made of synthetic bristles that I'm familiar with. They're soft and feels a lot gentler on the skin than those made from animal hair. In terms of length, they're look pretty standard to me. Even the color of the bristles look kinda similar to what I own.
Airbrush effect
But there is a slight difference with these brushes when I used them. The breathe airbrush in particular, is rather interesting. It's shaped like a kabuki face brush but the bristles are very dense. As a result, application of powder is a lot better with this compared to my regular kabuki because it buffs very well and is able to distribute foundation powder more evenly. The finishing is more flawless than using my kabuki but I don't really see the airbrushed effect being raved about with my mineral foundation. However, I do like it used with my liquid foundation as it does not cause streaking and does a nice job of blending the foundation into my skin to give a natural glow.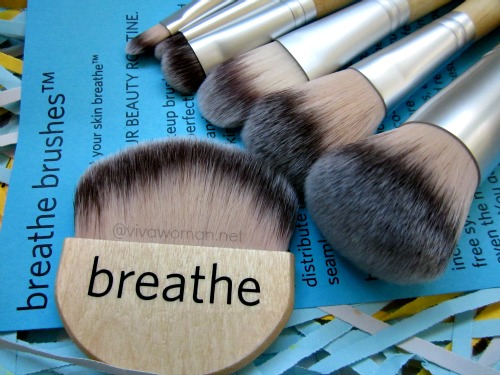 Different brushes for different needs
The other brush I like to bring to attention is the finishing brush. It has an interesting shape and is great for mineral makeup application too. I also like using the smaller brushes for the eye area as they compliment one another very well. I particularly like the large eyeshadow brush because the shape makes application and blending a lot easier. As for the liquid foundation brush, that one actually reminds me of a similar type brush I own from Ecotools.
Bristles don't drop easily
I've only washed these brushes once but so far, have noticed that the bristles don't drop as easily as some of the makeup brushes I've tried. So that's really great and hopefully, they'll stay that way even with many washes.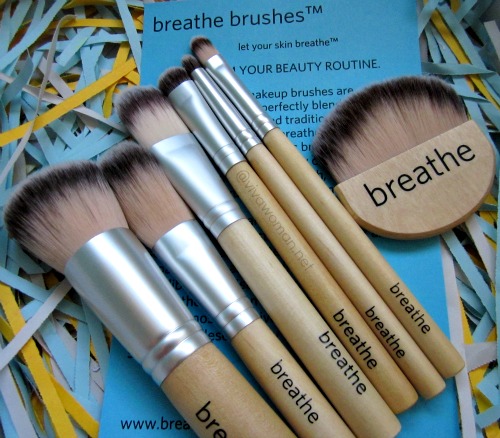 Price
Overall, I rather like using these breathe brushes for makeup. I think they're priced quite competitively too. The collection features 7 brushes under the deluxe kit and the set is on offer right now at US$119. Individually, the prices vary from US$15 for the large eyeshadow brush to US$26 for the airbrush. Pretty affordable I say.
Shipping rate
Those in US can order these breathe brushes at a flat rate of US$5 for shipping or get free shipping if your order is over US$65. International shipping is also available for those outside US. A flat shipping rate of US$15 is applicable. For more information, check out their website.

Comments