Green Beauty: Store Bag Store eco grocery bags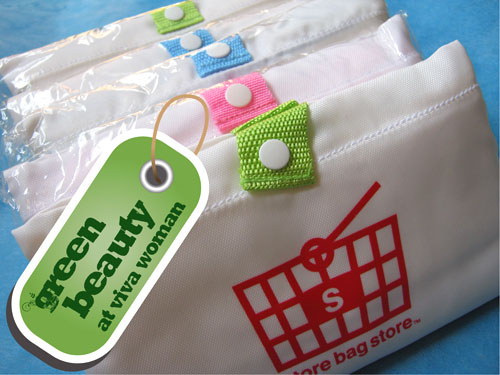 Hey VivaBellas! How's your weekend so far? I've been battling some downtime due to a viral infection and my eyes are hurting. Some of you may have read my tweet that my eyes resemble that of a frog! Anyway, speaking of frog, I want to introduce you to a new eco grocery bag under the brand Store Bag Store from Japan. They're brought in by Mrnmrsfab.com in Singapore and five of these worth S$125 will be included in the VivaBella Green Beauty Box Giveaway, running from now till December!
A fashionable & practical solution to plastic bags
One of the good thing about such eco friendly grocery bags are that they present a fashionable and practical solution to the problem of disposable plastic bags. And we know that by reducing the impact of plastic bag waste, we are making an effort to reduce global warming.
Do you have a eco friendly attitude?
Well, knowing is one thing but action is another. So the question for you today is, do you actively participate in the 3Rs – reduce, reuse & recycle? And if you're not quite convinced of the negative impact of disposable plastic bags on our environment, then I would strong encourage you to read the facts over at Mrnmrsfabulous. And if you're not already using one of these eco grocery bags, now's a good time to start because the store has also extended a special 30% discount on all orders from now till end December. Just use promo code :XMAS30. They will make meaningful X'mas presents too!
More about VivaBella Green Beauty Box Giveaway
As you can see, the goodies for the VivaBella Green Beauty Box Giveaway are coming along very quickly. Out of the five boxes, four of them will go to my Singapore readers while one box will go to an international reader. This will happen in December. Winners will be handpicked based on the quality of their comments and participation level throughout the period. To check out the other goodies and to comment on the other posts, check out the Green Beauty section.
Comments