Do our skin and hair change every 7 years?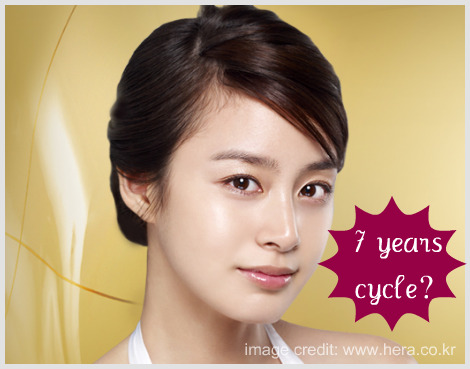 During my last Korean traditional anti-aging facial, beauty expert Han mentioned to me that women experience three major changes to their skin – during puberty, pregnacy and menopause.  I think biologically, this definitely makes sense since these are the periods when we encounter changes to our hormones too.  However, when I was speaking to Susan of True Beauty, she indicated that our skin changes every seven years! 
Important to know age for correct skin care analysis
Please note that I'm not discussing the epidermis, which sheds on a 28 – 30 days cycle but rather the entire skin which is made up of various layers.  In fact, I found several sources on the Internet which seem to confirm what Susan had said to me, in particular, this skin care document and this skin care consultation questionaire.  This also tells us why it is important for beauty experts or therapists to know our age before giving us a more accurate analysis.  I find it amazing that some of these people can comment negatively on my skin without first asking for my age.  I mean, on what basis are the comments made if they can't quite tell my age?
The tipping point of aging
And of course I started thinking about my age in multiples of 7 and how they have changed too.  I cannot remember specifically at each stage but yes, there were some significant changes for some of those that I recall.  For example, when I hit 21, I noticed my skin becoming drier and I started on the Clinque 3-step skin care routine and the last time my age hit one of the 7 multiples, my skin took a nosedive and headed south!  You might also be interested to know that Futurederm, another beauty blogger, recently wrote an entry which indicated that 35 years old might be the tipping point of aging.  Coincidental or not, 35 is definitely one of the multiples of 7 isn't it?
Body changes every 7 years
Well, apparently, it's not only our skin that changes every 7 years, but our entire body chemistry.  So your hair, your teeth and your organs change every 7 years too.  I couldn't find proper research material on this, but when I ran a search for "body chemistry changes every 7 years" or simply "body changes every 7 years" online, there were quite a number of discussions and articles found. 
Share your experience
So what do you think?  Do you remember how your skin or your hair changed when your age hit one of the multiples of 7?  If yes, did you develop a new allery?  Did you outgrow an allergy?  Did your skin type changed drastically?  What was it?
© www.vivawoman.net copyright notice ☺
______________________________________________________________
Comments