Review: Muji Cleansing Oil For Sensitive Skin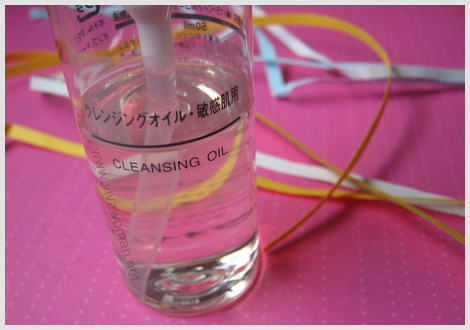 I haven't found anything that beats cleansing oil in terms of the cleansing abilities. While many, including myself, prefer to follow up with a foaming cleanser, it's actually possible to just rely on one cleansing oil to remove your makeup and even keep your face thoroughly cleansed.
There are a multitude of such products in the market these days, but the popular ones are still of Japanese origin. Surprisingly though, I haven't tried many. The last one I used was my own DIY makeup cleansing oil.
Free of mineral oil, alcohol, paraben and fragrance
Anyway, awhile back, I finally picked up the Muji Cleansing Oil For Sensitive Skin. I bought the 50ml bottle to try and I must say, I'm completely sold and am now ready for the 200ml.   I can't remember the prices but it was definitely under S$8 for the 50ml and under S$20 for the 200ml.  Update: it's only $5.90 for the 50ml and $13 for the 200ml!  Totally affordable right?  There is another one or two other versions of cleansing oil from Muji but this one for sensitive skin is great because it does not contain mineral oil, alcohol, paraben and fragrance.   I can't recall the ingredients as they're listed on the big bottle but there's olive oil for sure.
A bit thick but leaves no greasy residue
I only need one pump to remove my makeup.   It's not very greasy and because it's quite thick, I like to use this when my hands are slightly damp.  It doesn't emulsify much, but it doesn't leave a sticky layer of residue on the skin either.  However, I usually follow up with a foaming cleaner so that was never an issue for me.  It does have a faint smell, but nothing of a major concern since it's not unpleasant. 
Good for removing makeup
In terms of removing makeup, I think this works great for me but because I don't use waterproof mascara so I have no idea if this will remove that.  However, based on the comments I picked up from the beauty forums, some gals are even saying that this is better than the cleansing oils from Shu Uemura and Fancl. 
Good value for the price tag 
Well, I don't know since I've never used those before.  I may try Fancl's because of their ingredients but I doubt I'll ever try Shu Uemura's or Shiseido's.   Still, compared to Fancl, I'll rather go for Muji Cleansing Oil because of the affordability factor.  This product is very utilitarian, but it definitely has got great value!
Comments