Would you buy a new skin care item online?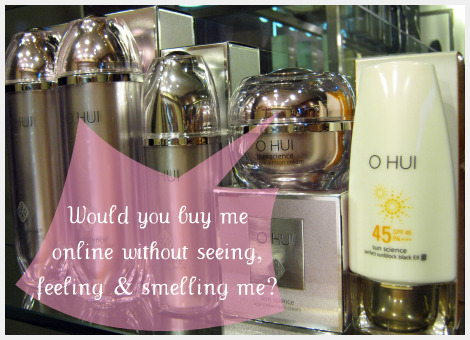 I consider myself pretty adventurous when it comes to trying out new skin care products. Not that I'll try every single product in the market, but rather, I've no qualms about getting a totally new skin care product online even if I've not seen it on the shelves.  However, a few retailers, including Eric of Bud Cosmetics and Joey of Kanga Organics, mentioned to me that they sometimes find it difficult to get customers to shop online because of the lack of the "touch and feel" factor.  Which is kind of surprising to me considering the growth in online purchases.
Growth in online shopping for cosmetics and beauty items
In fact, according to a report about Online Shopping In Asia/Pacific commissioned by Mastercards in 3Q 2008, cosmetics and personal care items including beauty products were featured within the top 10 spots when it comes to products and services frequently shopped online (chart 5) as well as products that increase impulsive spending in Asia Pacific online shoppers (chart 20).  But yes, we can't tell from the stats if the cosmetics were makeup items or skin care products.  And even under skin care, it's not possible to gain insights if they were brand new purchases.
Search for reviews on blogs and forums before making a purchase
Actually, I prefer to shop online these days because I find some of the sales assistants in the shops too pushy and irritating. Another good thing about shopping online is the savings gained.   So personally, I've gone shopping for brand new skin care products online without even requesting for samples.  A favorite is sunscreens since I can't find a good selection of naturally formulated ones here.   I've also purchased anti-aging products online without first checking them out at the stores.   In these situations, I typically know what I'm looking for and start to embark on searches online.  I read the descriptions in detail and I'll also search for reviews on blogs or forums.  One popular destination is of course makeupalley.com since you can get tonnes of reviews from independent users.
Would you?
Well, correct me if I am wrong but I suspect that most ladies would purchase brand new makeup items more than brand new skin care products online.  So my questions today are:  What brand new cosmetics or personal beauty product would you buy online?  And would you buy a totally new skin care product online?
Comments