How much S$ can you save when you shop at iHerb?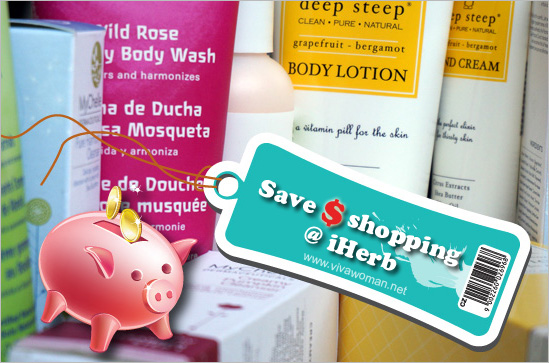 If you're in Singapore and are wondering how much you can save shopping at iHerb, this post is for you! One of the reasons I wrote this post is because some people have actually asked me that question. The other is because I get a thrill knowing how much I've been saving buying directly from iHerb. I don't know about you but it brings me great satisfaction whenever I notice similar items available locally but at higher prices. And not only do I save, I get so much variety shopping at iHerb with over 35,000 items to choose from!
On average, I shop at iHerb about once a month for cosmetics, supplements, grocery, household products, and even pet supplies. If you want to know what I usually buy, check out this post on why I love shopping at iHerb and what I usually buy. I wish I have started shopping earlier at the online store for I would have saved much more! But as they say, better late than never.
Price comparison chart
Here's a price comparison chart for 12 items as a sample of the cost savings when you shop at iHerb. My listing of the local prices are based on those listed in stores such as Watsons, Cold Storage, Vitakids, Homefix and a regular pet shop I patronize. As you can see, the savings are substantial. See the prices of the Real Technique and Ecotools brushes? See the whooping savings for the popular supplements such as Sambucol Black Elderberry and Nordic Naturals? Sure there are some items with little savings but still, most items are way cheaper at iHerb. Like I was so pleased recently because I managed to score a flea and tick defense topical treatment product for Gracie at a more manageable price compared to what I've been paying locally.


Shipping is under S$5
Oh, but wait, how about shipping costs? Wouldn't that still mean items cost about the same when they're shipped here? For this, I have to thank all the frequent shoppers of iHerb from Singapore. We must have had chalked up so much shopping that iHerb took the initiative to work out a special arrangement with Singapore Post. So it cost only a flat rate of US$4.00 to ship your order for up to 14 pounds with a value of up to US$200.00. Delivery takes 4 to 8 business days, with tracking number provided. I've been using this service since it was introduced with no problems–they usually arrive within a week of my order. Update: Free shipping to Singapore for all orders over $40! YAY!
Reward program and VIP discounts
Besides cost savings and low shipping cost, another great incentive to shop at iHerb is that you get rewarded for referring others. For starters, if you're shopping at iHerb for the first time, you can use a promo code (like mine) to receive an instant US$10 off your first purchase of US$40 or more. For purchase less than US$40, you get US$5 off using the same code. Once you become a customer, you'll receive your own promo code and start earning reward dollars to offset your purchases! Also, those who chalk up a minimum spend of US$2,000 become an iHerb VIP and get across-the-board discounts ranging from 5% to 14% according to their VIP discount structure.
Special promotions
In addition to all that I've mentioned, you may like to know that new products are constantly added at iHerb and some of these are promoted at really attractive prices. Check under 'Specials', 'New' and 'Trials'. Some of the products are going for something like US$0.50!
Clear expiry dates and easy claiming policy
Okay, sounds good so far but what about expiry date and freshness of the products? Well, expiry dates of items such as supplements are clearly indicated so you won't get any nasty surprises there. In fact, iHerb often run special pricing for items with closer expiry dates. I've never had any issues with my order but from what I've read from some others, items sometimes arrive damaged. Even so, it's easy to make claims if your items arrive damaged. Just post a picture of the item you've received on their Facebook page, quoting your order number, and the company will get in touch with you almost immediately.
Sounds awesome right? Why do you think I love shopping at iHerb so much? So if you're not already shopping at iHerb, you should really consider doing so. And don't take my word about cost savings. Check out the website for yourself.
Get US$10 off your first-time purchase
If you're shopping at iHerb for the very first time, you can enjoy US$10 off if your purchases are $40 and above (US$5 if below $40). Use my promo code OVO966 (affiliate). Shipping is speedy: you have a choice of using DHL, which takes three days to arrive from US to Singapore. I pay US$4 for the shipping via Singpost and it always takes about five days with no issues. Anyway, you're given a tracking number if you ever need to locate your parcel.

Comments