Share: what's the must-have item in your bag?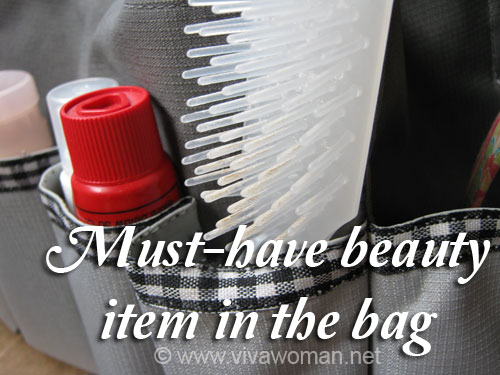 I remember someone asking this question at a workshop I attended eons ago – what is the one item you must have with you when you're out? So let me modify the question here a little for the VivaBellas reading this – what is the one beauty item you must have in your bag when you're out?
Is it a lip balm? A lipstick? A foundation powder? A sunscreen? A handcream? A mirror? A hand sanitizer? A pack of tissue? Or something else?
Well, mine is a comb. Heh. Many people don't know but I belong to that category that will potentially ask anyone I've just met: "is my hair messy"? Okay, okay, I don't ask. Very often, I'll just whip out my comb and brush my hair. Friends who know me well are not surprised that this is the first thing I do when I meet them. My hair must look neat at all times! So yes, I detest fan and strong wind that mess up my hair! I do try to comb my hair in private, like in the restrooms, but some times I really can't and I'll be whipping out my comb when I am:
– taking a crowded lift.
– traveling up or down an escalator.
– traveling in a crowded train.
– peering into the side mirror of a car.
– looking into my reflection at a retail store.
Ha. I think you get the idea. I can be walking and combing my hair too and if I am able, I'll be glad to bring my comb when I'm in the middle of a swimming pool too.
So tell me, if you can only have one beauty item in your bag, what must it be?
Comments