My Secret Skincare Cleanser & Exfoliating Gel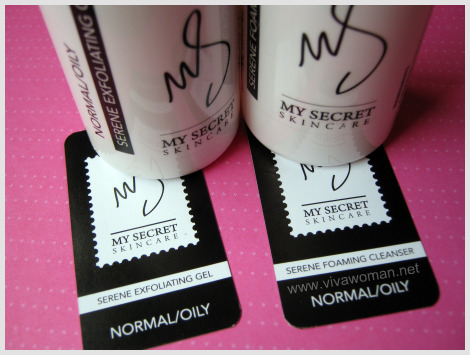 Jennie Huang recently launched a line of natural skin care line under My Secret Skincare based in Australia and asked me to test her products.   I didn't want to try many items so I only picked the Serene Foaming Cleanser and Serene Exfoliating Gel from the normal/oily range.
Both products came in similar packaging – simple white pump bottles.  It's nothing fanciful but it's definitely functional.  I actually liked the smell and texture of both products, particularly the Serene Exfoliating Gel.
My Secret Skincare Exfoliating Gel AUD$37
This is a very smooth exfoliating gel. In fact, it looks all smooth and creamy from the picture isn't it? But once you apply on your skin, you can feel the fine bamboo powder, which is the key ingredient used to lift away dead skin cells and impurities.  It does an effective exfoliating job around my nose area and helped to remove some of the blackheads.  But because the powder is fine, I was careful not to over exfoliate my entire face or I used it together with the cleanser to lessen the gritty effect.  Still, I was quite impressed with how it performed and have been using this in place of my usual Lavera exfoliating cream once a week.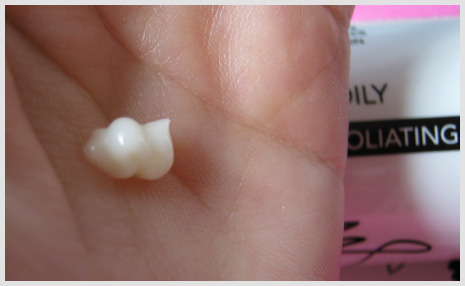 My Secret Skincare Serene Foaming Cleanser AUD$29
This came in a clear liquid gel and foams very well but not leaving my skin tight or taut after cleansing.  It contains native extracts Kakadu Plum, Lilly Pilly and Quandong, and is blended with essential oils from Sandalwood Australian, Lavender Australian to gently remove surface impurities.  It's got a distinct lavender smell and I was actually concerned about this ingredient as it can cause photosensitivity and it's not listed at the bottom.  Jennie however, assured me that the content is less than 1% so that eased my concern somewhat.   Still, I think I would have felt better if that ingredient was listed at the end.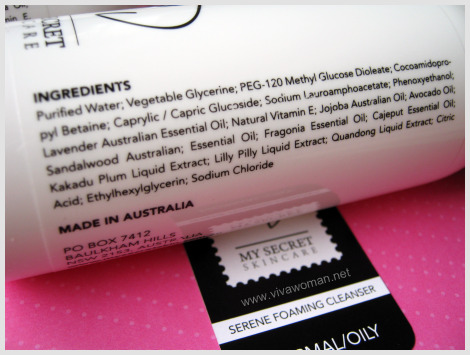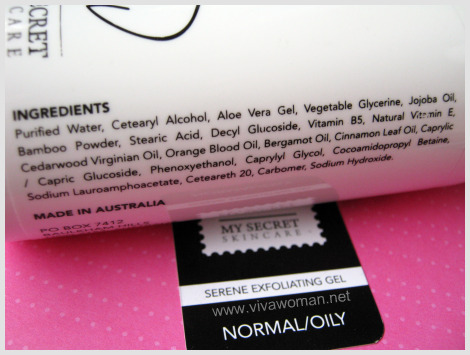 Overall summary
The line of products under My Secret Skincare contain mostly natural ingredients and are free of sulphate, paraben, lanolin mineral oil, artificial colour, SLS and petrochemical.  But I did notice that the products contain phenoxyethanol, a preservative, which is rated as moderately safe under EWG but known to a potential irritant for some.  Personally, I'm fine with the ingredients (except for lavender) because I'm more concerned with ingredients that cause photosensitivity or drying.  Anyway, the online store has a good list explaining the ingredients so you can look that up as well should you have other concerns. 
As for the price point, the products aren't expensive but they don't exactly fit my perception of being an affordable line either.  Somewhere in between perhaps?  But between the two products I've tried, I really like the Serene Exfoliating Gel better because of the ingredients plus the efficacy level. 
Complimentary tickets to Hong Kong Cosmoprof
My Secret Skincare is based in Australia but offers international shipping.  Jennie mentioned that her company will exhibit in Hong Kong Cosmoprof (a beauty trade show) from November 11 to 13 and she would like to offer 20 complimentary admission tickets worth HK $200 to Viva Woman readers.  I'm not sure how many of you are based in Hong Kong but if you're there or you'll be in the country during the said period and are interested to attend, you can register at their website using the contact form by October 16 and stand a chance to receive the ticket.
Comments