Review: MOMO makeup brush set
I've been hunting for a foundation brush to replace the Erth kabuki brush that "died" on me. I wanted something affordable and after reading various reviews, shortlisted that from Eco Tools and Everyday Minerals. I almost placed an order with Everyday Minerals because the company provide international shipping but before I did, I got to find out about the MOMO Brush Set from Momo Minerals and that they were going for a 30% discount! In addition, the company is right here in Singapore and I can save on the shipping!
Brush set consisting of 7 items in a pouch
If you have seen or own brushes from Everyday Minerals, don't you think the Momo brushes look uncannily similar except of course there aren't any logos on the makeup tools? But whether they are the same or not, this brush set is definitely of great value as it contains a powder brush, a blush brush, a crease brush, a small eyeshadow brush, an angled liner / brow brush, an eyeshadow brush and a spoolie, all packed nicely in a black zipper pouch. The retail price is S$35 but after the 30% discount, I paid S$28.40 for it inclusive of postage charges. Compare that with US$10 for just one kabuki brush from Everyday Minerals, not including the shipping charges!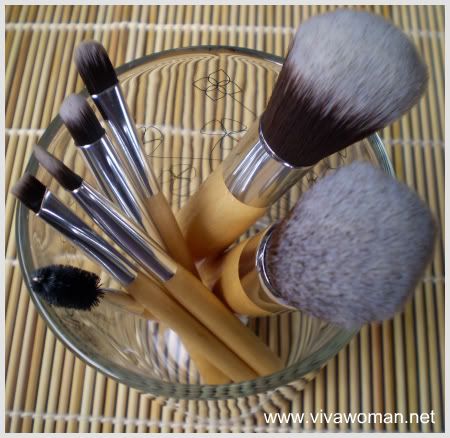 Synthetic bristles are extremely soft on the skin
The brushes measures from 10 to 11 cm and all the bristles are synthetic and hence, extremely soft on the skin. As you can see from the picture, the brushes are very dense.  The powder brush is great for applying mineral makeup but it's a little soft to pick up powdered foundation that well though. I also found the angled brow brush too soft compared to my usual but the advantage of using one that is softer is that I don't pick up so much pigments and because of that, my brows look softer and more natural. My favorite is the creash brush! I've never used something like that before and this is excellent for blending my eyeshadow.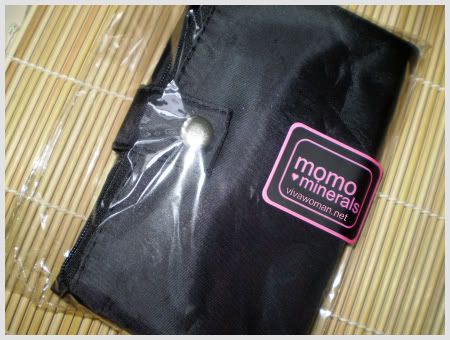 No shedding after first wash
What I love about this MOMO brush set is that everything is washable; from the brushes down right to the pouch! And the brushes didn't shed one bit after one wash. I certainly hope it will not shed in subsequent washes.
30% discount on brushes and tools for January
So I'm very happy with this purchase. The service from Momo Minerals was also very prompt because I received this within two days after I placed my order online. And you may like to know that the 30% discount is applicable for all their brushes and tools for the entire month of January.  Just enter lovelydeals during checkout when you order from Momo Minerals.
Comments