A love that grows gradually: EDM Flat Top Brush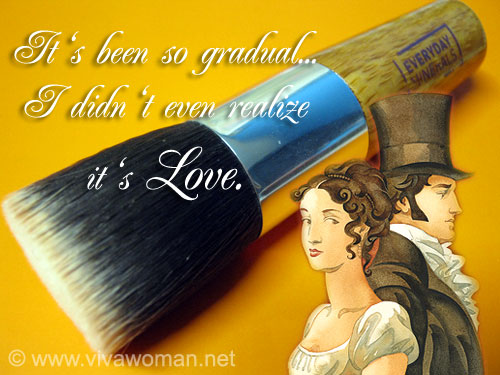 I don't know about you but when it comes to love stories, I'm not one who is sold on love at first sight.  Well, not that I don't like love at first sight or that I don't believe it but I think a love story that grows gradually, especially out of dislike or hatred at the beginning comes across as more heart wrenching and poignant. Like Elizabeth Bennet and Mr Darcy in Jane Austen's Pride and Prejudice:
Jane Bennett: 'My dearest sister, now be serious. I want to talk very seriously. Let me know every thing that I am to know, without delay. Will you tell me how long you have loved him?'

Elizabeth Bennett: 'It has been coming on so gradually, that I hardly know when it began. But I believe I must date it from my first seeing his beautiful grounds at Pemberley.'
Before you start to think that this is a post about literature, I'm just being emotional about my Everday Minerals Flat Top Brush. A year back, I reviewed this brush and kind of dismissed it as an average performing brush even when everyone else was raving about it. Yeah, there was no love then. I didn't like it much but as I started using it more and more, I realized that I've fallen deeply in love with this brush.  It's the one brush I've actually been using on a daily basis now.
I think it didn't work so well for me initially because I was using it with mineral foundation and the brush gave me a very sheer coverage.  I then tried this brush with compact foundation and the initial reaction was still so-so. However, over time, I started to like using this brush more and more because it really yields a more natural coverage without streaking or caking compared to my other kabuki brushes.  It also does not accentuate my pores like the others. And today, this is one brush I can't live without now!  What a change of heart right? I don't even know when that started but it must be at least some six months after I started using it. This must be true love then…for a love that grows gradually will be strong, steady and lasting. HA!  I am now even considering purchasing a second one because I can't use this whenever I take it for a wash.
So my dear VivaBellas, do you believe in love at first sight or a gradual kind of love? And do you also have a beauty product that you've grown to love very much over time?
Comments