DHC skincare coming to a Watsons near you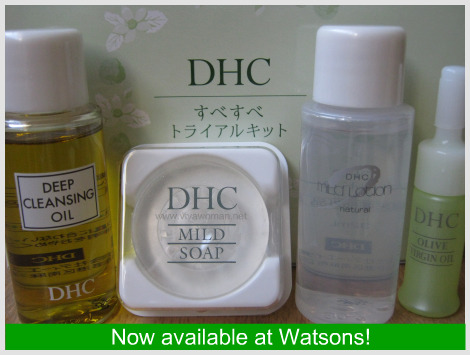 So yeah…you've all guessed it right!  It's DHC that's going to be launched in Watsons.  In fact, if you've visited the store at Ngee Ann City, you probably would have seen the DHC Olive Essentials Set, which include the popular DHC Deep Cleansing Oil on display.  And from tomorrow onwards, you can find the full range of DHC products at Watsons Bugis Junction, Compass Point, Ion, and Raffles City, besides Ngee Ann City.  Other outlets will also roll out skin care products from the range progressively.
Additionally, I also learnt that besides the Olive Essentials Set, other DHC skincare products to be introduced include the acne, whitening, anti-aging, suncare and men's ranges. And from January next year, DHC's health supplements will also be brought in.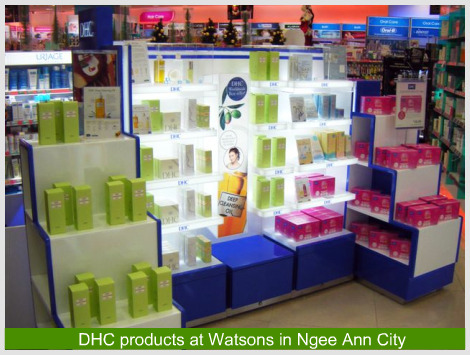 Voted best cleanser in Japan
For those who don't know, DHC is one of the leading brands in Japan with over 29 years of presence and more than 40,000 stores worldwide, including over 100 DHC direct management stores in Japan.  I wouldn't consider them as 100% natural but their products are said to use mostly botanical ingredients especially olive oil.  As a matter of fact, the DHC Deep Cleansing Oil is fairly natural and does not contain mineral oil, plus it has often been voted as the number one product in the category of cleanser within Japan.
Garnered good rating at Makeupalley
I haven't tried all the cleansing oils to confirm if this is true but based on the sample kit I've tested, it's quite an effective oil cleanser that emulsifies well and leaves my skin quite fresh without a sticky residue.  And compared to the Muji Cleansing Oil for Sensitive Skin I'm currently using, this one is not as thick and is therefore easier to spread across my face. I was told this cleansing oil can remove waterproof mascara but I can't confirm that since I don't wear heavy makeup.  But I guess being rated 4.2 out of 5 from 1037 reviewers does say something about the efficacy of this product as well?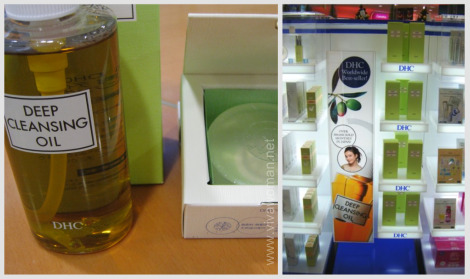 Mild soap combines olive virgin oil and honey
Other products in the Olive Essentials Set include the Mild Soap, Mild Lotion and Olive Virgin Oil.  I can't say much about them because I didn't test them extensively but if you're a soap person, you might like the DHC Mild Soap which foams very well and does not dry out the skin.   Personally, I dislike using soap on my face due to the overly squeaky clean feeling and so I currently only use the DHC Deep Cleansing Oil with my own foaming cleanser.
Price of DHC Olive Essentials Set
Okay, most of you are probably interested to know the price of the products and this is what was released by Watsons:
– DHC Deep Cleansing Oil 200ml S$42
– DHC Mild Soap 90g S$26.50
– DHC Mild Lotion 100ml S$52.50
– DHC Olive Virgin Oil 30ml S$69.50
I ran a quick check and it seems that the price of the DHC Deep Cleansing Oil is actually on par or better than those from other Japanese leading brands but I'm curious to know if they're competitive to you since I know some of you are already purchasing from blogshops or alternative sources. Comments?
Comments