DIY skin care therapies by Chizu Saeki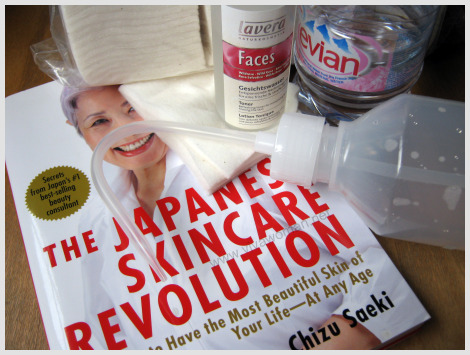 If you're serious about skincare, The Japanese Skincare Revolution by Chizu Saeki is a must-read!  It's suitable for all ages because like what the book stated, it helps you to maximize your skincare products.   I find the methods covered in the book particularly good for arresting wrinkles and expression lines so if you start early with some of the recommendations and are consistent, you may even be able to evade having early wrinkles.
Today, I'll like to discuss my thoughts on two of the methods covered in the book.  One is the popular DIY lotion mask and the other is the water massage.
DIY lotion mask
This is a much loved mask and is really easy to use.  If you have watched the video I posted here, you should have a good idea on how to make the most out of this lotion mask.  The objective of this DIY lotion mask is to allow our skin to absorb the active ingredients in our toner or lotion as the cotton pad will allow the lotion to sink into the skin.
Based on experiment, the key to having a successful mask is finding the right cotton pad.  The ones recommended by Chizu Saeki – her own brand plus Miss Webril – are not readily available for most of us.  The best ones available to us here are from Muji.  The size is good and the material is sufficiently absorbent.  The only problem is that they do leave some lint on your skin, which may or may not be a problem depending on your level of fussiness.
As for the main ingredient – based on my personal experience and comments from fellow readers – it seems that most of the toners should work but of course, the better ones are those with hydrating or moisturizing properties.  I used Lavera Toner for this purpose and I found it was quite effective when I used the right cotton pad.  My skin appeared moist and looked hydrated after the 3-minute mask.  However, this method uses too much toner and if yours is expensive, I think it's really wasteful.  Since Chizu Saeki's objective is for us to maximize our skin care products, I find that this is good in so far if we use an affordable toner.  This is why I would never use my True Bio Skincare Tonic Lotion for this DIY lotion mask because it is not necessary as it is already formulated to penetrate into our skin.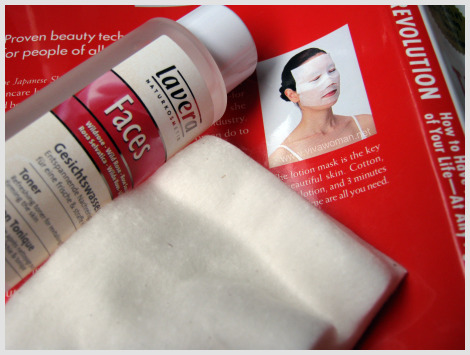 Facial water massage therapy
Another interesting DIY facial therapy recommended by Chizu Saeki is the facial water massage.   The objective of this method is to tone our facial muscles by activating them using mineral or distilled water and hence, miminizing any stress on our skin.  I managed to get a swan-neck squeeze bottle from Muji for this experiment and so far I've tried it twice but not finding this particularly useful.  Perhaps I'm not adept with this but the toning effect is minimal to me even when I tried to be more forceful with the squeezing and I still think that a facial massage using fingers work better.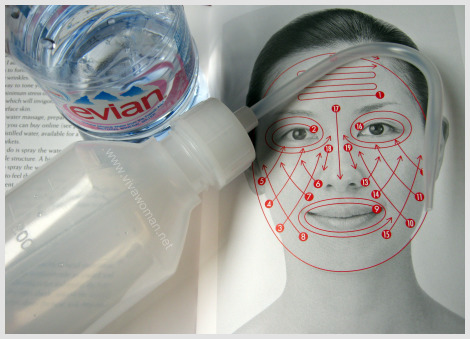 Effective methods for not so problematic skin
Overall, I find the book useful even though I do not agree with some of them.  I like the fact that she's teaching us how to maximize our products although I have to say that they work well if you don't really have a lot of other skin issues.  Her facial massage techniques are also interesting and I believe, good if you're thinking of minimizing your wrinkles and lines. However, to be effective, one has to be consistent of course.
Comments