Is it okay to mix our skin care products?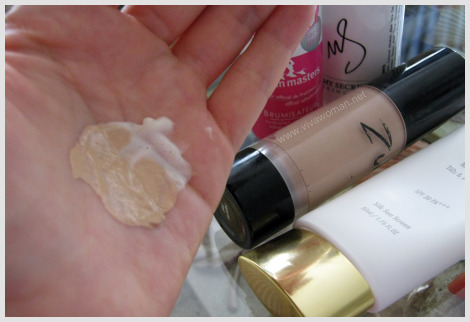 More often than not, I get comments from readers about mixing their skin care products and I wonder if it's a good thing.   However, after reading The Japanese Skincare Revolution by Chizu Saeki and talking to Susan of True Beauty, it seems that some mixing may not be a bad idea.  Here, I'll chart out some of my thoughts on this topic.
Mixing exfoliating scrub with facial cleanser
Japanese skincare guru Chizu Saeki suggested that we can mix our exfoliating scrub with our facial cleanser and lukewarm water if we find the scrubbing grains too abrasive for our skin.  I think this is feasible as diluting the exfoliating scrub only makes it less grainy and shouldn't reduce its efficacy.  In fact, I've heeded this suggestion before and the exfoliating scrub still works well and is in fact, more gentle for my skin.
Mixing moisturizing cream with a drop of water
This came up in my discussion with Susan because I mentioned that her products are too precious to be used on my neck and I prefer to keep them for my face.  So she suggested that after applying the cream on my face, I can add a drop of water to whatever is left and apply that mixture to my neck.  I was slightly hesistant about this suggestion but I've been following it anyway but using a tiny squirt of Evian mineral water instead and I do find it easier to apply the cream on my neck when it's slightly diluted.  In addition, I thought that a little water shouldn't change the efficacy of the cream.  Plus, water is often said to be a carrier of skin care ingredients too and we are often encouraged to apply moisturizer on damp skin to seal in the moisture.  As long as the mixture is applied immediately, there also should not be any issues of bacteria contamination.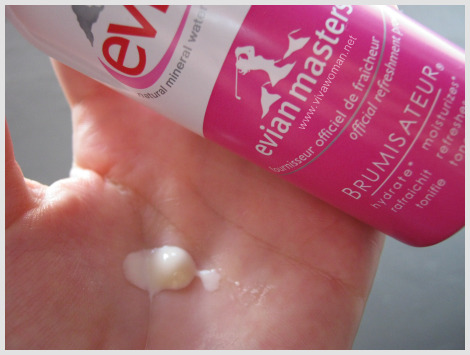 Mixing moisturizer with foundation
This one comes up a lot in the comments and many do this out of convenience or because they do not want to layer their products.   It actually seems to make sense but the two products really work quite differently.  Most moisturizers works to penetrate the upper layer of our epidermis but foundation is  supposed to stay on top of the skin.  Hence, mixing the two could potentially clog our pores especially since the two products could have overlapping ingredients, and is thus particularly unsuitable for those who are proned to breakout.  So, it's best not to mix the two products but layer them according to sequence or to choose a tinted moisturizer.
Mixing moisturizer with sunscreen
Okay, I'm definitely against mixing your sunscreen with your moisturizer as we don't want to compromise the performance of the active ingredient in your sunscreens by diluting it.  You may also have to use more sunscreen in order to get the same amount of protection and end up with a greasier complexion or worst, clogged pores.  In addition, ingredients in your moisturizer may conflict with that in your sunscreen when they're mixed together and render your sunscreen useless.  Hence, if you want a more moisturizing sunscreen, try getting a moisturizer with SPF instead.
Mixing foundation with sunscreen
It looks like many ladies do this all the time and some of them even say that it's perfectly fine.  However, I'm not very enthusiastic about this combination because mixing your sunscreen with anything could disrupt its photostability.   So I think it's a no-no for me and the reasons are similar to why you shouldn't mix your moisturizer with your sunscreen.  Perhaps the foundation would be more compatible with a physical/mineral sunblock as both are supposed to sit on top of our skin.  But if you're wearing a chemical sunscreen, the active ingredients are supposed to penetrate into your skin and work differently.  It's really best to wear your sunscreen first before slathering on your foundation or you can choose to use a tinted sunscreen.
Overall thoughts
In general, I'm not keen on the idea of mixing your skin care products except with water.   Even so, you want to be careful that you're not diluting away the efficacy of the active ingredients.  And like the article Don't Mix and Match Skin Care Products highlighted, a hotch-potch of product application may lead to long term damage as products and brands may not work synergistically together and this could even lead to some form of "chemical warfare" or "ingredient warfare".
Comments