Naturopatch Essential Oil Patches for PMS relief
I was so excited when my order of the Naturopatch Rose Geranium Essential Oil Patches finally arrived last week from a LuckyVitamin spree.  It so happened that these came during the onset of my PMS so it was really timely!  The purple tin box is so pretty and once opened, I could smell the rose geranium.   Of course I couldn't wait to use the first patch right away!
Need to figure out the actual placement of the patch
But I was good and waited till I took a bath so that I can use this on clean, dry skin as instructed.  I followed the recommended placement of the patch and stuck it on the front side of my shoulder.   However, after a long time, I still could not smell anything!  This therapy is supposed to work via aromatherapy, which means, I should be smelling the rose geranium.   I was wondering that perhaps I didn't use it correctly or that I shouldn't be smelling anything!  Anyway, you can imagine how disappointed I was but nonetheless, I pressed on and used it on the subsequent days.  I placed the patch lower down my shoulder but I could only smell a little of the rose geranium at some intervals.
Placement should be nearer to the breast
I almost gave up on the product until I read up further on the website.  Well, I really should have gone to the site earlier or I needn't have wasted four patches to realize that I should have placed the patch much lower, nearer to my breast, so that I can inhale the essential oil!  (Yes, I'm quite a dim wit.)  And so finally, I could smell the rose geranium on the 5th try!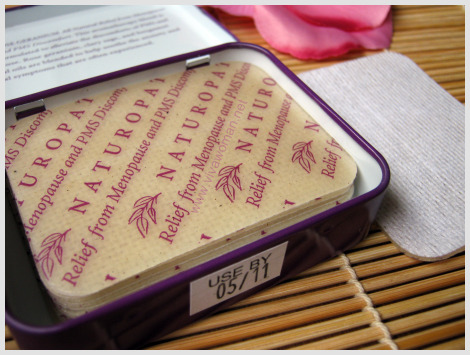 Benefits from inhalation and skin contact
How the Naturopatch Essential Oil Patch Therapy works is via aromatherapy.  According to the FAQ on the website, "Inhalation combined with skin contact is the quickest way for essential oils to enter the body.  As we breathe in, moist, warm air carries tiny molecules of essential oils through the nasal passages and, via the olfactory system, to the brain, immediately enhancing mood and optimizing a feeling of health and well-being."
Clever idea but not so effective delivery
The invention is very ingenious I have to say, especially since it allows you to enjoy the benefits while on the move.  However, I think using a burner or diffuser is more effective as I can enjoy a stronger scent.  In addition, the scent on the patch is rather mild, and if I were to wear it under my clothes, I don't think I can enjoy tha aromatherapy benefits.  So while it's a clever idea but the delivery via inhalation isn't as effective as desired.  As for skin contact, it's definitely good there but I have no idea how that works for me because I prefer to smell the rose geranium essential oil to enhance my mood.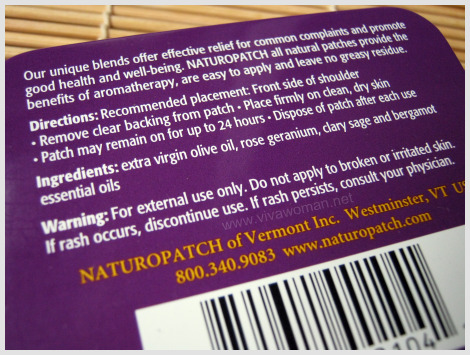 Easy to use and non messy
The Naturopatch Essential Oil Patches are easy to use though.  Just remove the clear backing, stick on and that's it.  It's also easy to remove and doesn't leave a mess.  However, there was at least once that I developed some redness after using the patch for a few hours so those with sensitive skin might need to be more careful. Each patch is effective for up to 24 hours but in effect, the longest I wore was about 12 hours as I always remove it when I want to take a shower.  So the cost per usage is not that low, considering the tin of 10 patches cost me US$9.40 from LuckyVitamin. 
Might repurchase if cheap refills are available
The Naturopatch Aromatherapy Body Patch comes in a variety of essential oils to serve different purposes.  You can find details on their website.  The rose geranium essential oil body patch is designed to relieve discomforts associated with PMS and menopause.  Although I rather like the patches, now that I know where to place it right, but I think I'm better off using the actual rose geranium essential oil to relieve my PMS.  The patches aren't exactly cheap and they're not as effective in terms of inhalation when worn under my clothes.  But I may still get them if I can find the refills at a lower price because they're obviously more convenient than using a diffuser.
Oh, I have no idea if using these alone can really help to provide relief for my PMS because the relief is already provided by the evening primrose oil I'm taking.  I was hoping this would complement the evening primrose oil and eliminate my PMS completely because I do feel very good smelling rose geranium.
Comments