Marie-Veronique Organics sun protection range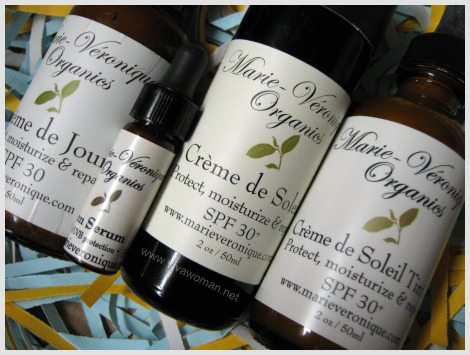 If you're a regular at Viva Woman, you might have noticed a reduction in my posts about sunscreens. Well, that's because I'm pretty happy using the Marie-Veronique Organics Creme de Soleil and I'm less motivated to look for new products.  Anyway, I recently ordered the Creme de Soleil Tinted and received their Sun Serum, SPF 20 as a sample so I thought I'll run a summary post regarding the Marie-Veronique Organics sun protection range now that I've tried them all.
Lightweight formulas with 20% non-micronized zinc oxide
Marie-Veronique Organics offer five products under their sun protection series and they are all lightweight zinc oxide formula with broad spectrum UVA/UVB protection.   I love the fact that all their products are free of harmful chemicals and nanoparticles, plus the zinc oxide content is 20%.   Contrary to what some think, although the Creme de Jour and Creme de Soleil contain a number of carrier oils, they are not greasy at all.  In fact, I actually found the Creme de Jour to be a tad dry.  But because they're non-greasy, I can use them over my eyes without any worries of growing milia seeds.
Creme de Soleil Tinted ideal as light makeup base
Some readers have complained that the Creme de Jour and Creme de Soleil make their skin looks dull.  I think the Creme de Jour might have this effect because it does leave a stronger whitecast.  Personally, I found that my skin looks fine with Creme de Soleil but my favorite is the Creme de Soleil Tinted which I use as a light makeup base.  My only gripe is that the texture is slightly powdery.
Creme de Jour drier and leaves whitecast
Creme de Jour on the other hand, is a tad dry for me as I've reviewed, and may not be suitable for those with dry skin.  This is why I'm currently using this on my hands.  However, I don't really find it ideal as a body sunscreen because it's not that easy to blend.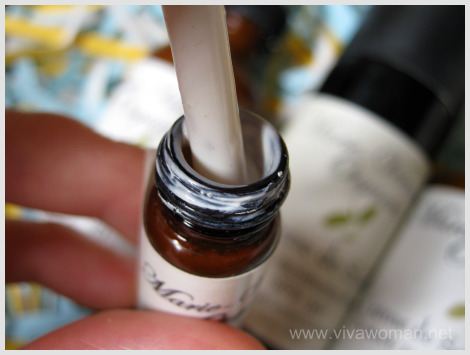 Sun Serum difficult to blend
I was quite surprised with the texture of the Sun Serum though. I had expected it to be a more diluted than it already is but when I tried it, I found the texture quite close to the other two but not as thick. I was also equally surprised to find that it is white and when applied on the skin, does leave quite a visible whitecast. Despite the various oils in the formulation, I did not find this serum very emollient and it was a tad difficult to blend into the skin at times. Personally, I think US$80 is too expensive and I'll rather purchase the Creme de Soleil anytime.
Suggestion to improve packaging
Because the Marie-Veronique Organics sun protection range are of natural formulations, I'll need to use them up quickly – preferably within 6 months. I was initially worried as creme started to look different after awhile but upon checking with the store, they are said to be normal separation – common with products that use a natural emulsifier. But I do wish they'll improve the packaging, to include a dropper to make dispensing easier and more convenient.
Comments