Olive Body Range with Extra Virgin Olive Oil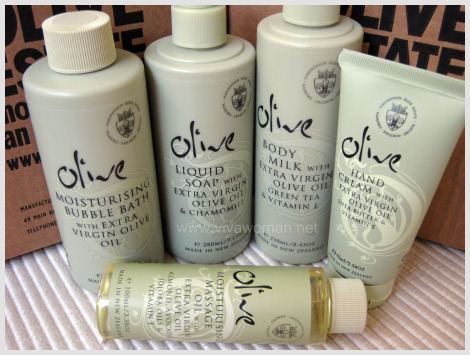 I was quite shock to receive a carton of goodies from The Simunovich Olive Estate in New Zealand recently for the giveaway. Upon clarifications, it seems some of the products are also meant for my sampling. So today, I'm going to write about some of the products under the Olive Body Range – namely the body milk, the hand cream, the moisture massage oil, the liquid soap and the moisturizing bubble bath – all made with extra virgin olive oil.
Favorite is Olive Body Milk
Of the lot, my favorite is probably the Olive Body Milk with green tea and vitamin E. It is creamy when applied and takes awhile to be absorbed but once it is absorbed, it leaves my skin feeling rather moisturized without being greasy. It has a light scent of the olive oil and is very pleasant so most people should be quite happy with this. In fact, I much prefer to use this even on my hands rather than using the Olive Hand Cream containing shea butter and vitamin E, as the latter makes my hands feel a tad drying especially when I rub the back of them.
The Olive Moisturizing Massage Oil is quite hydrating too but it takes a longer time to be absorbed so some people may not like to use it as a body oil. I have no problems with using oil on my body and on certain days, I even apply the Olive Body Milk after I have used the Moisturizing Massage Oil.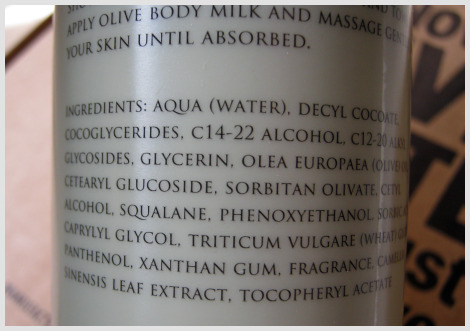 Skin friendly Olive Liquid Soap & Moisturizing Bubble Bath
The Olive Liquid Soap was quite a mystery for me initially. It sounded like something for the hands but since it wasn't explicitly indicated, I tried using the soap on my body too. It turned out quite well actually and my skin didn't feel tight or dry afterwards. Instead of chemically derived surfactants such as Sodium Lauryl Sulfate (SLS) and its close relative Sodium Laureth Sulfate (SLES), the Olive Liquid Soap uses safer, skin-friendly cleansers such as Sodium Lauroyl Sarcosinate and Sodium Lauryl Sulfoacetate that do not strip or dry our skin. So this liquid soap is now sitting by my kitchen sink and I'm less afraid to wash my hands for fear of drying them out. Even the Olive Moisturizing Bubble Bath, which contains nutrient-rich, pH balanced blend of natural ingredients is truly moisturizing when I used it on my son.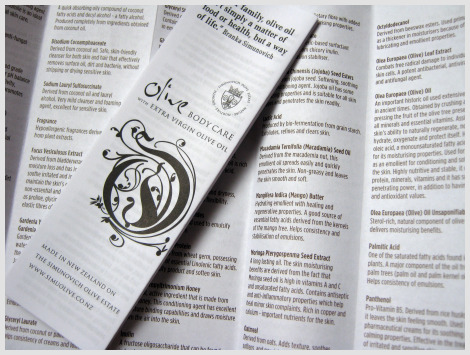 Overall summary
This range of body products appear to be rather functional and I like the fact that they use extra virgin olive oil plus most of the ingredients are natural as well. In fact, I like the product description list which explains some of the key ingredients very much as it is small enough to be carried around for reference purposes. My only gripe is that the range isn't readily available to those outside New Zealand. However, Viva Woman has scored a number of products for the VivaBella Bonanza Giveaway. So remember to participate! More will be given away later too!
Comments