Using scotch tape to fade your acne marks?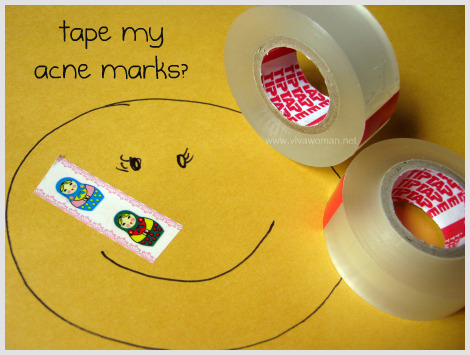 This is a busy week for me because my son is going into Primary One. It's crazy with the amount of preparation involved and you know what took the most time? Preparing labels with his name and class for his various books and stationery! And to ensure that the labels stay in place and do not drop off, we had to secure them with clear tapes! Speaking of which, let me share with you the tip of using scotch tape to heal acne marks from reader A Burn, A Shiver who left the following comment:
Regarding acne marks, I've found a FANTASTIC way to get rid of those nasty red marks. I believe it's called the taping method. You put tape on your face after washing it, and you peel the tape off. It sounds ridiculous, I know, but I tried it and a lot of my marks are gone.

Mind you, I've had these marks for over 3 years and have tried pretty much every product, DIY or store bought, even prescription, to get rid of these marks. I was about to get laser surgery but then I found this method. I gave it a try and BAM! This really works!

I've only done it for a week, and my marks have faded and are significantly less noticeable. this hasn't made me break out too much, but it might also be because I've been stressing so much lately over tests and college applications. :/
Weird as it may sound, it came across as pretty logical to me. Personally, I've always found that acne marks heal way faster and better if the top layer flaks off so I'm guessing that this taping method peels off the top layer quicker.
Actually, I've been secretly trying this out for days after reading the comment and more discussions on this thread on the acne board. It might be too early to pass any judgement but I do see one of the stubborn spots fading slightly. Anyway, it doesn't hurt and there is no irritation. And if you're worried that it'll leave some stuff on your face, then I suggest doing this before washing up. In fact, what I do is to use a cotton pad to wipe the area I want to tape and after taping, I would proceed to wash my face as usual.
Okay, gotta run but tell me what do you think about this taping method. I'm keen to know if anyone else has tried this with success?
Comments