Be a FreshKon Mosaic Muse & win $1000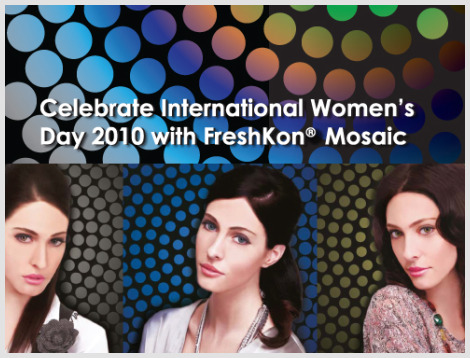 This weekend is dedicated to highlighting promotions to celebrate International Women's Day, which is happening every year on 8 March. The first, is a free beauty workshop organized by FreshKon and Sephora. The event will take place on Thursday, 25th March 2010, either between 10am – 12pm or 3pm – 5pm at Sephora in ION Orchard. According to the media information received, participants will receive $300 worth of goodie bag sponsored by FreshKon and Sephora, including a S$60 shopping voucher redeemable for Sephora products.
In addition to learning all about the natural color range offered by FreshKon Mosaic, participants will learn how to pick the most suitable cosmetic contact lens for one's personality and lifestyle, match make-up with cosmetic contact lens and be familiar with eye make-up tools to enhance one's eyes with FreshKon Mosaic. FreshKon will also select a winner amongst the workshop participants to be the FreshKon Mosaic Muse and the selected FreshKon Mosaic Muse will receive a $1,000 cash prize and one year's free supply of FreshKon Mosaic cosmetic contact lenses.
For more information, check out the FreshKon website and all registrations need to be in by 4 March 2010.
Comments