Eco stylish: Harveys Lola Ruffle Satchel Black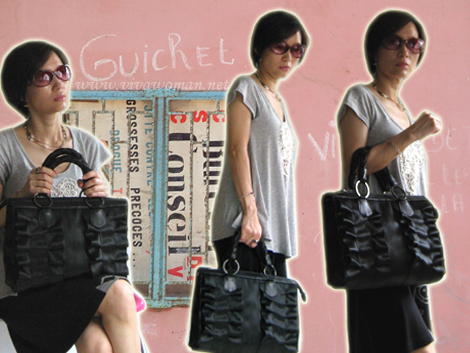 Lookie! My new arm candy. And it's a Harveys Lola Ruffle Satchel Black made of durable automotive seat belts adorned with ruffles, braided handles, and sleek black nickel hardware. Yes, no kidding, this is eco fashion in high style!
I've actually written about Harveys Seatbeltbags way back in July 2007 when I spotted them at Epitome.   At that time, my impression of the bags were that they were sturdy and of quality finish.  However, the designs brought in here were limited then.  So when Envi.me contacted me, asking me to choose one of their bags to test run for a month, I decided to pick the less classic but more fashionable looking Harveys Lola Ruffle Satchel. I was hoping for the Lola Ruffle Satchel Rose or the Expresso but I had to settle for the black because that's the only choice in the store. And well, it turned out to be a great beauty.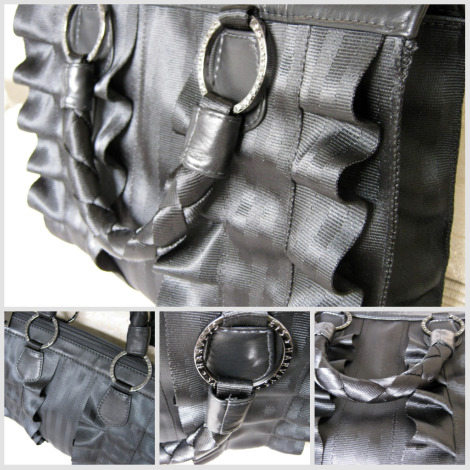 Choice of using it with handles or strap
The bag is described as a durably dainty alternative to the classic Seatbeltbag with vertically stitched seatbelts adorned with ruffles, braided handles, and sleek black nickel hardware. Overall size is 12.5″ (L) x 10″ (H) x 5″ (W) with two 10″ handle with 6″ drop and a smooth zip-top closure. It also comes with a detachable adjustable strap 49″ long with a drop length of 24″ when fully extended – but I really prefer to use it with the handle rather than the strap.
Roomy interior with quality finish
The bag isn't large but the interior was roomy for me to include the usual stuff I tote around. There are two internal slip pockets for handphone and other small stuff and it's all fully lined with Harveys classic monogram print.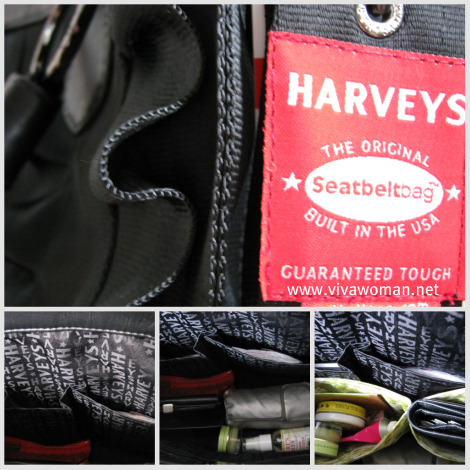 Bags are guaranteed tough
A little bit of interesting history about Harveys Seatbeltbag. The company began in March 1997 by husband and wife team, Dana and Melanie Harvey. While installing seatbelts into their 1950 Buick, Dana was inspired to make Melanie a matching handbag and produced the first Harvey's Original Seatbelt Bag. They started making the bags in their one car garage, but quickly out-grew it. So today, each handbag is lovingly built in their USA factory to exact specifications, and "Guaranteed Tough"!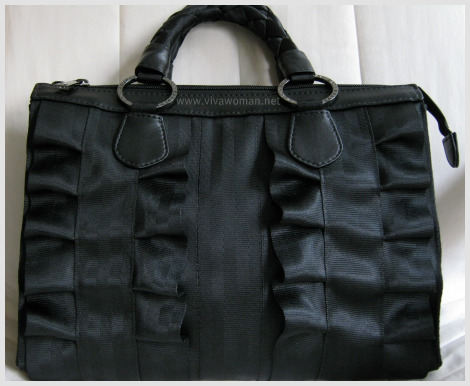 Selection of stylish green bags from Envi.me
But I'm glad their collections have gone beyond just tough, but more fun and current looking. And because they're so unusual, they can definitely make more of a conversational piece than the conventional branded bags. Envi.me, which is based in Singapore, has brought in a number of designs from Harveys.  The Lola Ruffle Tote Black is also interesting and retails at US$238 while the Lola Ruffle Satchel Black you see here retails at US$234.  Besides Harveys, there are also other eco friendly bags from brands like Ecoist and English Retreads and the company ships worldwide. So definitely something interesting to check out for those who are into the green revolution!
Comments