School girl bag: Cambridge Satchel in metallic pink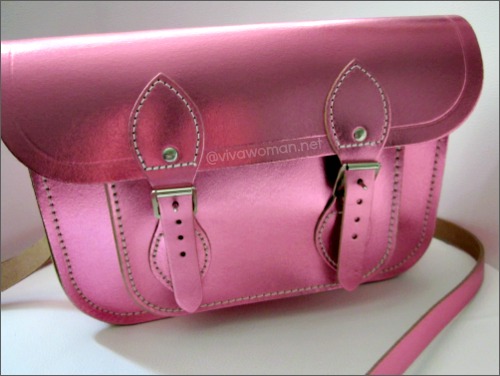 Satchel was my kind of thing like 20 years ago? Ha. But somehow, the appeal lessened down the years and it took me a lot longer to want to get hold of the classic Cambridge Satchel, often described as "The Brit It Bag". But I jumped at the chance when I saw this pink shimmering bag in metallic leather at Shopbop and decided to get it with the gift certificates I received as part of my monthly fashion collaboration with the online store.
In case you don't know, Cambridge Satchel has become something of a cult among the young fashion bloggers and the interesting tale behind the brand is that it is founded in Cambridge, UK, by Julie Deane and her mother Freda Thomas as a way to pay private school fees for Deane's children. Her colourful handmade leather satchels are all based on an original Oxford and Cambridge satchel design and aimed at school children, but met unexpectedly high demand as a fashion accessory in just four years and now generates an annual turnover of more than £12million.
Cambridge Satchel comes in different sizes, starting from 11 inch. Though I prefer big bags, but in this case, I am not keen on a big, stiff satchel and so ordered the smallest instead. It doesn't hold much stuff—just good enough for my specs case, wallet, notepad, phone and small cosmetics. But it works nicely as a sling and a clutch but what appeals most to me is the shimmering pink. Yeah, girlie I know. I mean if I want to look like a school girl, then why not go all the way?
Okay, all right. Next up is to find the pinafore to complete the look. (#k8SjZc9Dxk_-)
Comments