Chic & trendy quilted handbags from cinda b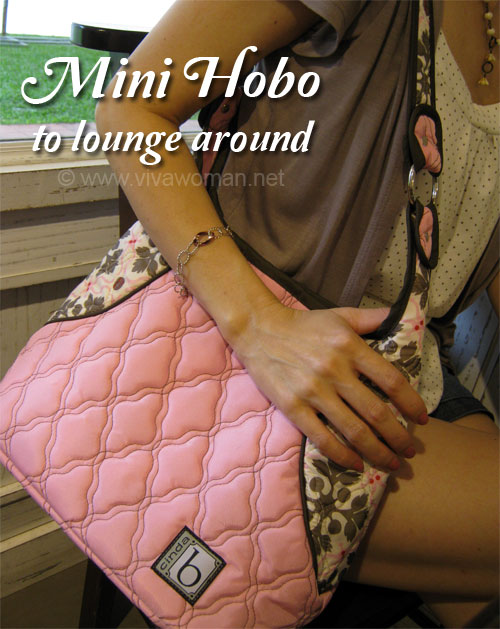 If you love quilted handbags and totes, then you might have caught sight of the cinda b range that were launched recently at Tangs Orchard and Metro Paragon. The bags, priced from S$29, are designed and made in USA, and come in a variety of styles in fashion-forward prints and colors. I haven't been keen on quilted bags really because those I've seen came across as slightly frumpy to me but I'll say this range looks contemporary and chic. In fact, I received a number of compliments from my friends who spotted me in my new bags that the company sent me for a review.
cinda b mini hobo
Although I normally love totes because they're so roomy and easy to use, I picked two smaller bags from the range. One is a Sweetleaf Pink Mini Hobo you see in the picture above. I gotta say the pink is gorgeous! Even my husband thought it's pretty. Since it's a mini, it means I can't dump my entire bag organizer in there. However, it's still roomy enough for most of my essentials, my umbrella and a small book. And though I can't put my bag organizer in there, I can still organize some of my stuff properly in the bag with its four interior pockets. So no need for too much rummaging!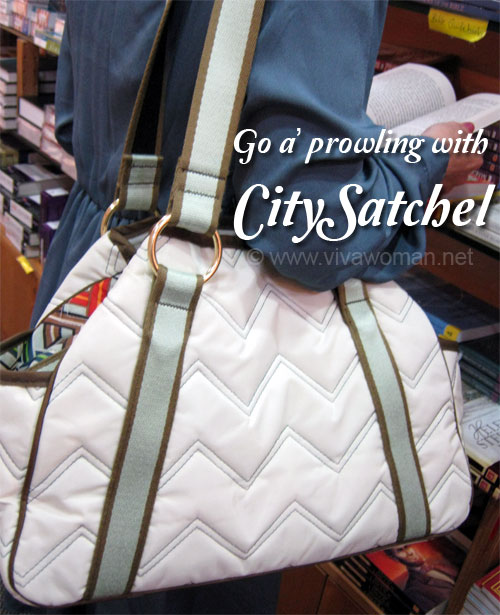 cinda b city satchel
At first glance, this bag looks pretty small too but surprise…it's a good size as my entire bag organizer can fit in just nicely! So I'll say this satchel is very functional as transferring bags becomes a real breeze. Aside from the interior pockets, I also like that this one comes with two convenient exterior pockets that allow me to fit some of my small items in them for easy access. I picked the Ravinia Ivory fabric because I've always wanted a white bag and this one is washable!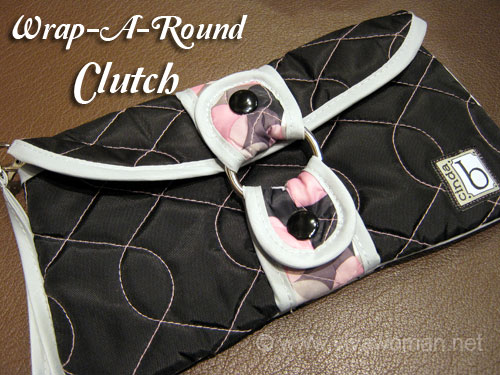 cinda b wrap-a-round clutch
This is a wristlet clutch that is great when you don't have a need for a big bag but still need to take along your little essentials. I actually find such clutches are great for grocery shopping but for this one, I think it's too glam looking for that purpose. More like something to take along for a night out. This measures 10.5″ x 5.5″ and the wrist strap is detachable so you can also use it just as a clutch if you like.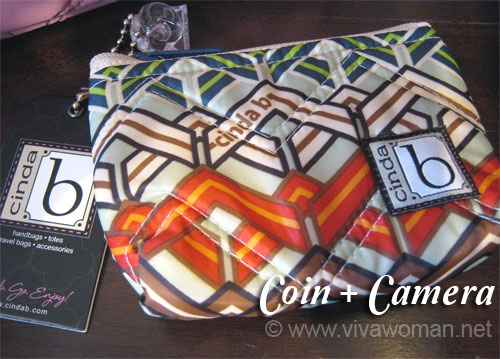 cinda b coin + camera
This little pouch didn't impress upon me that it can hold my camera as mine is a little fat but again, I was surprised that it can! I can't take a picture to show you because I don't have a spare camera. However, I'm not going to use this to hold my camera nor my coins. Instead I'm going to use this to hold some of my important IDs and keys as it's a good size for those working essentials.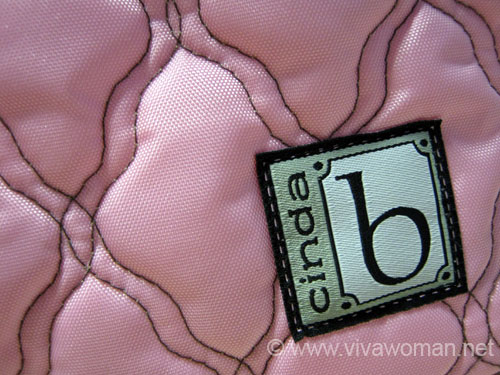 Promotion and contest
I rather like this range of bags as the designs are fashionable enough and the quality is pretty good as the bags, made with poly/nylon fabrics that are not only durable, but water and stain resistant. Besides what you see here, you can also find totes, travel bags, baby bags, iPhone cases and cosmetic pouches in the range. As mentioned, prices of the bags start from S$29 and for a limited period now, you can enjoy a 10% discount off the range retailing at Tangs Orchard & Metro Paragon. For more designs of the bags, check out the cinda b facebook page. It's a good idea to become a fan of their Facebook page because I understand the company is going to give away a handbag set including a City Satchel, Coin+Camera and Small cosmetic bag worth S$249 real soon. So become a fan, stalk the page and maybe you want to start taking pictures of your ugly or worn out handbag too! *wink*
I've also uploaded more pictures of the bags and accessories I've received on the Viva Woman Facebook page so head over to take a good look on them!
© www.vivawoman.net copyright notice ☺
______________________________________________________________
Comments