Update on Marie Veronique sunscreens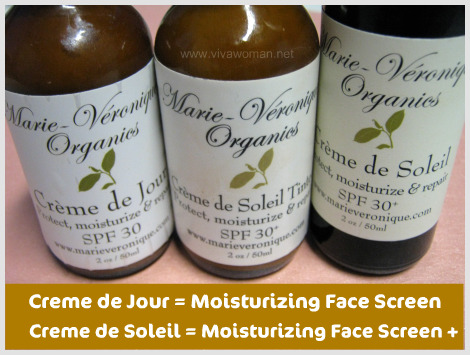 I received an email from Marie Nadeau, Founder of Marie-Veroniques regarding my gripe about their change in sunscreen formulation.  I'm really glad she took the time to read my entry and responded by addressing my concerns, as well as explained the changes to the products. Since a number of you also use their sunscreens, I thought I'll publish her explanations here regarding the Marie Veronique Organis sun protection products, specifically the Creme de Jour and Creme de Soleil to put some of your minds at ease.
We have not changed: The amount of zinc oxide in the sunscreen products. The Creme de Jour and the Creme de Soleil have been renamed to Moisturizing Face Screen and Moisturizing Face Screen + respectively, but the content of the sunscreens has always been 20% by weight and 24% by volume. Somewhere along the line I decided to report contents in volumetric measurements because it's something customers have an easier time visualizing, and this is in fact how most sunscreens describe percentage contents (when they bother to report percentages at all).

Moisturizing Face Screens (Creme de Jour & Crème de Soleil): We have added a darker tint for our customers with darker complexions. The light tint is the same tint that you are used to buying.

I certainly understand your concern – it is difficult to have the perfect amount of zinc in a sunscreen and in our case, more would have been too much. I'm with you, if it isn't broke, don't fix it, so we haven't touched Creme de Jour except to rename it, AND add a medium tint, in response to so many people who asked for it. With respect to Creme de Soleil we have made these minor alterations: we have replaced acai oil with yangu oil because yangu has extra UV protective qualities, and we have removed pearl powder and mica.
So if the zinc oxide contents are the same, I'm certainly willing to give the Moisturizing Face Screen Plus – Light Tint a try. I'm not particular about the other changes as they seem minor to me. In fact, Marie Veronique has made the effort to extend international shipping to Singapore with the launch of their new website and also offered to send me samples to try out. I'll be sure to report back again once I've tried the new formulation.
Explanation on the powdery texture of the tinted versions
In addition, some of you had the same question about the tinted version being more powdery and I took the opportunity to ask Marie. She explained that that's because they use powdered iron oxides to make their tinted versions, so that accounts for the extra powderiness of it. In addition, they found that the powdery finish is flattering to the skin, especially with the darker tint. Personally, I was a tad surprised with the powdery texture when I first tried it, but when applied, it poses no problems for me and the finishing is smooth. In fact, I now only use the tinted version of Creme de Soleil and it acts as a light makeup base for me too.
So for Yings who was thinking of ordering, it looks like the version is not much different. In terms of the US$12 shipping cost, it works out to be quite similar when I make the arrangements for someone to ship me from US if others are interested to know.
Comments