Nexcare Acne Patch is a savior for my big acne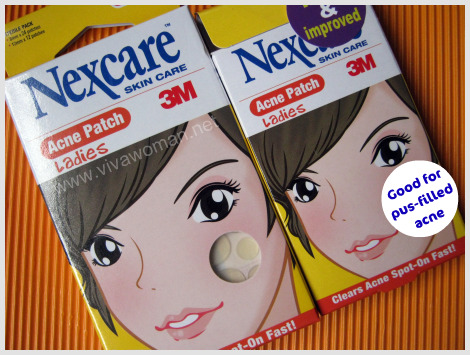 How many chances would you give a product before you finally give up? Usually, it's two for me but surprising, I've given this Nexcare Acne Patch like Nth time of chances. I'm not exactly sure why but I guess it's because it's really harmless since it's just a hydrocolloid dressing, plus it always gives me a glimmer of hope that my acne would be gone the morning after!
Works through absorption
I first learnt of this product from Pei Fang aka pf1123 who mentioned a few times in her comments that this product has helped heal her pimples. So of course that got the the curious cat in me wanting to try it. I like the idea that it's not a cream so it sets my mind at ease that this stuff won't dry up my skin like many acne creams does. However, the first few times I tried this without success. It's supposed to suck up the pus and flatten the pimple but each time I used, nothing happened. It was later that I realized that it was because mine were headless pimples and there were no holes for the acne patch to absorb anything! *slaps forehead*
Success after many trials
Anyway, to cut the long story short, I finally figured out through trial and error, the correct way to use this and by then I had already exhausted one small box. However, even after figuring it out, the patches still didn't do much for me and I didn't understand why there were so many raves on the product. But nonetheless, I continued to purchase more boxes to try each time a big zit appeared. I had nothing impressive to report until this week when I used it to heal the biggest acne I ever had! I swear it was close to the size of the eraser at the end of a rubber-tip pencil and I was freaking worried since I know emu oil is going to take forever and I was very likely to get impatient and then popped it with my bare fingers.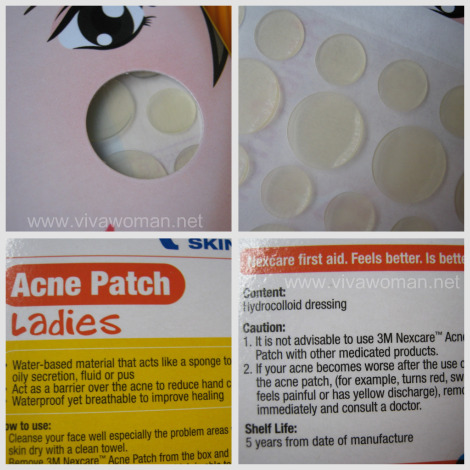 Helped flattened my big pus-filled acne in 3 days
Although the acne was huge, it was headless and I had to make a little hole using a needle sterilized with denatured alcohol. I was so happy when I woke up to find the patch completely white as it meant it had drawn out some of the pus. The size had also noticeably reduced and it wasn't so horrifying. At the facial session on Tuesday, the beauty therapist also helped me extract some of the pus gently but I continued using the acne patch for another day and now, there is no more secretion and what's left is a flat patch of redness.
Waterproof yet breathable
Okay, here's a little description of the Nexcare Acne Patch for those who haven't come across it. It is basically nice little hydrocolloid dressing – mostly round skin-colored, water-based material that acts like a sponge to absorb the oily secretion and pus. You're supposed to use this on clean, dry skin and it acts as a barrier over the acne to reduce hand contact and infection. It is also waterproof yet breathable thus helps improve healing time while ensuring comfort. When you see the acne patch turning from skin tone to white tone, this means that the oil secretion has been absorbed.
Traditionally used in hospitals as a wound dressing
The product from 3M, the same company that is famous for their post-it stickers, uses patented Tegasorb that absorb maximum oil secretion and pus spot-on and was traditionally a large medical dressing meant for pus absorption in large wounds. Nexcare Acne Patch was introduced after it was discovered that nurses in the hospitals innovated the product by cutting the dressing into smaller pieces to address their acne problems.
Helped prevent permanent scarring
Anyway, I was really really thankful for this acne patch even though it did not work for me in the past. Thank goodness for my persistence too or otherwise, I'll likely have ended up with some permanent scarring had I been foolish enough to pop that humongous zit.
Nexcare is available at Watsons and Guardian in Singapore as well as Malaysia but I have no idea if this is available in other markets.
Comments