Yes To Cucumbers Cleansing Shower Gel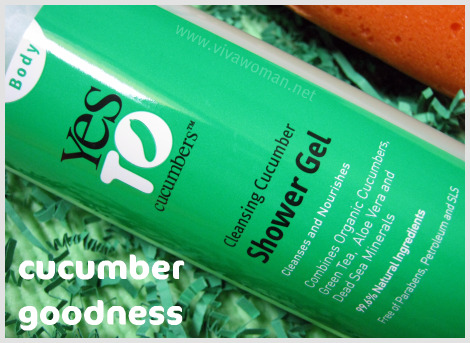 I don't know why but I was never interested in the Yes To Carrots range. I think it was the smell. The newer Yes To Cucumbers and Yes To Tomatoes range look a bit more interesting but yet, I only made my first purchase very recently and still, it wasn't for myself. I bought the Yes To Cucumbers Cleansing Cucumber Shower Gel for my husband who was complaining about his dry skin. The smell of this product appealed more to him compared with the one from Yes To Tomatoes and I also thought that this can probably help nourish his skin better.
Strong cucumber scent
Of course I had to give it a try as well but unfortunately, the smell just doesn't get to me. Besides the strong cucumber scent, I detected a faint fragrance as commonly found in soaps and shower gels. But don't get me wrong…the scent is pleasant but because I'm more of an essential oil and fruity type of gal so the smell of vegetables don't appeal so much to me. My husband on the other hand, takes well to it. But we're both in agreement when it comes to the nourishing factor.
Leaves skin soothing and clean
The Yes To Cucumbers Cleansing Cucumber Shower Gel does lather up fairly well, though not too much. If you're used to SLS type of cleansers that leaves your skin squeaky clean, then you need some time to get use to this shower gel as it'll leave a film over your skin because of the nourishing factor. But otherwise, you'll find your skin well cleansed and soothing because of the dead sea minerals and aloe vera. Instead of SLS, this one uses Sodium Coceth Sulfate, which is described as semisynthetic detergent-like compound derived from fatty acids obtained from coconut oil. Personally, I think it's good for those people who are lazy to apply any body moisturizer – like my husband.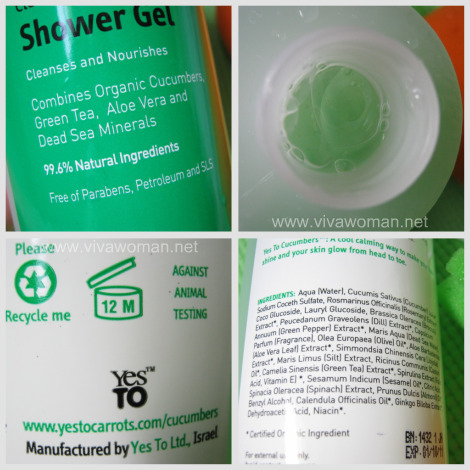 Ingredient list of Cleansing Cucumber Shower Gel
Personally, I don't scrutinize ingredients for shower gels too much. They're good to me if they're SLS-free, petroleum and paraben free as in this case. But for those who need to know, this product contains these: Aqua (Water), Cucumis Sativus (Cucumber) Juice*, Sodium Coceth Sulfate, Rosmarinus Officinalis (Rosemary) Extract*, Coco Glucoside, Lauryl Glucoside, Brassica Oleracea (Broccoli) Extract*, Peucedanum Graveolens (Dill) Extract*, Capsicum Annuum (Green Pepper) Extract*, Maris Aqua (Dead Sea Water), Parfum (Fragrance), Olea Europaea (Olive) Oil*, Aloe Barbadensis (Aloe Vera Leaf) Extract*, Simmondsia Chinensis Cera (Jojoba) Extract*, Maris Limus (Silt) Extract, Ricinus Communis (Castor) Oil*, Camelia Sinensis (Green Tea) Extract*, Spirulina Extract (Folic Acid, Vitamin E) *, Sesamum Indicum (Sesame) Oil*, Citric Acid, Spinacia Oleracea (Spinach) Extract, Prunus Dulcis (Almond) Oil*, Benzyl Alcohol, Calendula Officinalis Oil*, Ginkgo Biloba Extract*, Dehydroacetic Acid, Niacin*. * Certified Organic Ingredient
Made in Israel
Okay, although I know that this product contains dead sea minerals, I was still surprised to learn that the product is actually manufactured in Israel. I have nothing against products made in Israel but I was just curious – are all products containing dead sea minerals manufactured in that country?
Price and availability
You can find the 500ml Yes To Cucumbers Cleansing Cucumber Shower Gel at most Watsons for S$12.90. I think it's pretty reasonable and should last quite a bit, unless you're showering like 5 times a day or more with this! Though I'm not so fond of the smell, I think this product is worth the price tag.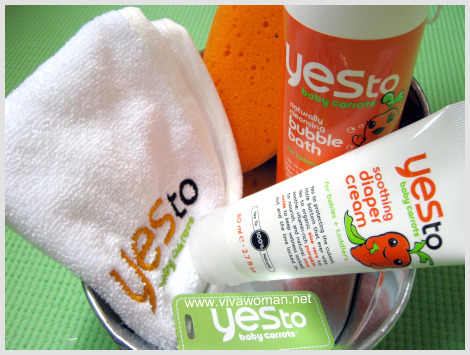 Newest to the Yes family: Yes To Baby Carrots
Okay, since I'm reviewing a product from the Yes family, I might as well also introduce the Yes To Baby Carrots range. A few weeks ago, I received a huge carton from the PR company in US and in the box were very cute stuff from the Yes To Baby Carrots range. These are new – Yes To Baby Carrots Bubble Bath and Yes To Baby Carrots Soothing Diaper Cream. But I was disappointed because I was looking out for the Yes To Baby Carrots Natural Sunscreen with zinc oxide; it was not available as yet. You bet I'm eagerly waiting to get my hands on it!
Comments